News
Local Round-Up: Butchery boom in Frederiksberg
---
This article is more than 3 years old.
Elsewhere, Copenhagen's attractions adapt to new futures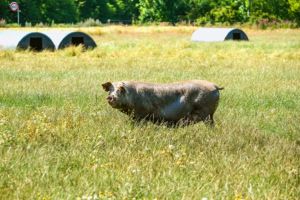 This year's butcher of the year award, served out by Landbrug & Fødevarer, will take foodies to the capital if they want a taste of the winners' produce.
Frederiksberg is now the home of both the best private butcher and the best butcher in a Danish supermarket.
It is no small achievement. In order to attain the title, a butcher must be nominated by industry colleagues, present their creative thoughts for the future, pass the assessment of mystery shoppers, and pass the assessment of a panel of judges.
Have a butcher's
Copenhagen's second oldest butchery, Slagter Friis, is home to Peter Lindholm: now Denmark's top private butcher.
At just 30 years old it is quite the achievement, and for those wishing to get a taste of his craft, he recommends his Falkonerskinke.
Meanwhile, from Meny in Domus Vista on Roskildevej, again in Frederiksberg, Christian Balle has been named best butcher in a supermarket.
---
Tivoli adapts with new coronavirus measures
As we approach the day of Halloween itself, the seasonal fun is set to continue in Tivoli – even during the ongoing pandemic. This is in part due to the introduction of a set of new coronavirus measures, which began yesterday, which will ensure compliance with new government restrictions. The wearing of facemasks has been extended to a number of indoor rides, whilst they must also be worn in the park's concert halls too. Furthermore, they have indicated that they may be forced to briefly close their entrances in order to avoid congestion during busy times.
Copenhagen Zoo kills wolves as enclosure shut down
For 40 years visitors to Copenhagen Zoo have been able to get a look at a pack of wolves roaming its grounds, but now the enclosure has been shut down for good. It is part of a three-year strategy plan to update the animals' facilities, with the wolf enclosure no longer adhering to a higher standard of animal welfare than before. As a result, three male wolves have been euthanised after a new home could not be found. A brown bear has also been put to sleep as part of the project.
New youth hostel under construction
A new 24-hour youth hostel is planned in Outer Nørrebro. Housing 24 residents, Sporsløjfen will be staffed at all hours. Its goal is to offer support for young homeless people in housing, employment, education and substance abuse treatment. At the current premises on Rådmandsgade, many residents share rooms, but the new set-up will provide single rooms and two spacious communal kitchens. The site is expected to open in summer 2022.
Tårnby riddled
The rate of coronavirus infections in Tårnby Municipality on the island of Amager continues to rise. On Friday, the municipality was ranked as having the fourth highest incidence of infections, with 144.8 per 100,000. Now that figure has risen to 177.5 after 76 new cases were reported in the area. Tårnby's mayor Allan A Andersen stated "it does not look good".
Free trees
After a two-year hiatus, the Copenhagen Technical and Environmental Administration has relaunched its Partnership Trees initiative. Under the scheme, private citizens, companies or housing associations can get one or more trees for free on the promise that they care for them themselves and that they are visible to the public. Between 2016 and 2018, more than 1500 trees were planted through the initiative.