News
Business Round-Up: Danske Bank lowers ceiling for negative interest rates on deposits
---
This article is more than 3 years old.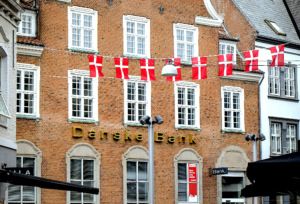 On January 1, Danske Bank will begin to charge its private customers to keep deposits larger than 250,000 kroner in their bank.
Currently the limit stands at 1.5 million kroner.
They are not the first bank to do so, with Sydbank recently announcing a similar move.
It is a result of the negative interests charged by Danmarks Nationalbank, where the banks themselves are required to keep deposits at a price.
---
Lowest Danske Bank profits in a decade
In the first nine months of the year, Danske Bank recorded a profit of 3.1 billion kroner: the lowest figure since 2011. The Coronavirus Crisis has hit the bank hard – with 6.3 billion in loans written off as a loss – yet the bank remains optimistic. Recent months have been better than was predicted in the summer, with the bank raising its expectations for the year as a whole up to 4.5 billion kroner. This would be the lowest yearly profit since 2014.
Wind in their sales
Vestas has seen a hugely successful few months, fulfilling huge numbers of wind turbine orders, and posting a 31 percent increase in quarterly revenue amounting to 35.5 billion kroner. In high demand, the wind turbine manufacturer has 253 billion kroner's worth of order backlogs.
ISS slipping
Services giant ISS has seen a 5 percent dip in turnover in the first nine months of the year. The company – which is responsible for, among other things, cleaning and canteen operations across the world – has been hit hard by the pandemic. Measured on revenue, it is Denmark's sixth largest company and the largest employer with more than 400,000 employees.
Nykredit takes a hit
The first nine months of the year have not been positive for Nykredit Group – one of the largest providers of mortgages in Denmark. Earnings were down 30 percent on last year to 3.4 billion kroner, thanks in part to 2 billion kroner in loans being written off as a result of the Coronavirus Crisis. It is not all bad news however, with the group recording a continued growth in customers as well as a significant increase in mortgage lending.
Nets set to merge with Italian competitor
Danish payment group Nets has ten days to negotiate a merger with Nexi according to a statement from its Italian competitor. Reuters reports that Nets is now valued in the region of 60 billion kroner. As recently as 2017, it was sold when private equity fund Hellman & Friedman bought and delisted the company from the Copenhagen Stock Exchange.