News
Berlingske fined for "demonising" The Little Mermaid
---
This article is more than 3 years old.
Berlingske faces a 285,000 kroner fine for an "evil" depiction of the Little Mermaid statue published earlier this year.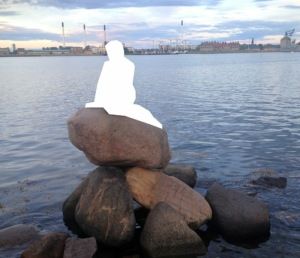 Berlingske has been ordered to pay a fine of 285,000 kroner for publishing an illustration of the Little Mermaid that Danish courts have ruled breaks the country's copyright law.
Despite its iconic status as a landmark of Danish identity, the image of the Little Mermaid statue has been subject to multiple copyright cases throughout the years – brought on by the descendants of its original sculptor, Edvard Eriksen.
Though Eriksen has been dead some 61 years, the statue itself will be protected by copyright law until 2030, which means Berlingske now faces serious consequences for its depiction.
An image is worth a thousand words … or 285,000 kroner
The illustration, published by Berlingske in May, shows the Little Mermaid statue in its famous setting at Langelinie, Copenhagen, but in place of a usually placid expression, a gruesome zombie leers out at the reader, with a torn Danish flag held under her arm and the phrase "Evil in Denmark" headlining the 'Opinion' supplement.
The depiction was meant as a lead-in to an article on debate culture in Denmark, but the Danish court found that the statue was misused in a context of political messages, right-wing extremism, and the use of the word "evil" – an act that the court described as "demonising" the Little Mermaid.
A fine completely out of proportion
Tom Jensen, the chief editor at Berlingske, called the judgement "utterly wrong". He plans to appeal the ruling to the High Court.
"We do not believe that a person can attribute political positions to a statue. It's a basic principle that when you create illustrations for an article, it doesn't mean those illustrations hold the views expressed in the article itself."
The statue, meanwhile, is well known to have been made the centre of political stunts throughout the years – for example, in the "racist fish" protest staged earlier this year.