Things to do
Five things to do in Copenhagen this Winter
---
This article is more than 3 years old.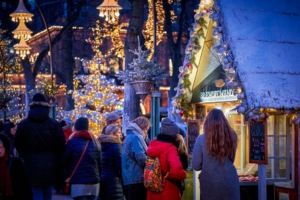 Between working from home and wearing your mask to the supermarket, you might be wondering what's going to happen to Christmas this year – but there's no need to worry. 
While it's true that many of the traditional Christmas markets in Copenhagen have been cancelled, with the reopening of Tivoli for the festive season there's a landslide of events on the way to rescue the Christmas spirit. 
It's just not Christmas without Tivoli: one of the world's oldest amusement parks. This year, Tivoli will throw on its famous Christmas lights from November 13 (11-22:00) to illuminate the long nights with a gleam of winter magic. Inside, visitors will get the chance to sample festive treats, catch the wonder of the Tivoli Youth Guard parade, and meet Father Christmas himself in his grotto. 
Outside Tivoli you can still catch that Christmas feeling. With decorations lighting the way from Strøget to Nyhavn from November 16 and carol singers in the streets, there's festive cheer in store for the whole family.
---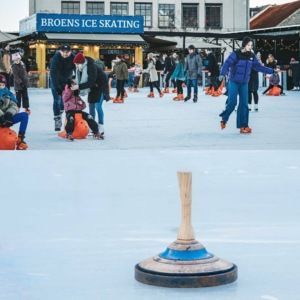 Spend the winter on ice at Nyhavn's newest skating rink
Øresund, the strait that separates Denmark and Sweden, hasn't frozen over since the 1950s, but that doesn't mean you can't still go ice skating in Copenhagen this Christmas. 
Just over the bridge from Nyhavn, a new Christmas skating rink is making its appearance from November 6, with wintry views out over the harbour itself. Broens skating rink (Mon to Fri, 09:00-20:00; Strandgade 95) offers a turn on the ice for free – as long as you bring your own skates. For everyone else, it's just 50kr to lace up a pair of skates and start showing off your twirls. 
There's also a range of special events on offer at the rink, whether you're looking for a disco on ice, a hockey game, or even want to try your hand at curling, check out the Broens Skøjtebane webpage for information on extra events.
Broen also has the food sorted, with nearby street-food stalls offering a wide range of meals to keep you warm – from burgers and crepes a la carte, to hot cocoa piled high with marshmallows. 
Just keep in mind that demand for ice skating may be high this year, with the annual rink at Frederiksberg Runddel announcing that it will remain closed, alongside the annual Christmas rink at Kongens Nytorv. So if you're an avid winter skater it would be wise to book your tickets ahead of time – while you still can!
Copenhagen's new state-of-the-art skating rink in Østerbro is set to open its doors in March. So there is something to look forward to.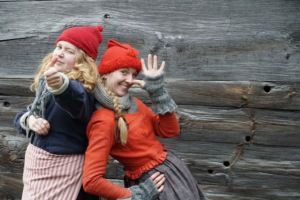 Discover Christmas through the ages at Frilandsmuseet
Step into the world of Christmas past at Frilandsmuseet: Denmark's own open-air museum. One of the largest and oldest open-air museums in the world, Frilandsmuseet invites you to experience the history of the Danish countryside. Across the grounds, you can visit fully-furnished buildings recreated from the 1650s to the 1950s, frozen in time to give visitors a glimpse of the past.
This year, the museum's farmsteads have been done up in accordingly accurate Christmas decorations, bringing the history of Christmas to life to teach visitors about Christmas traditions through the ages.
Take a ride on the horse-drawn carriage, and maybe even catch a glimpse of a mischievous nisse: a type of elf that likes to play tricks on unsuspecting farmers. Or head on over to the kitchens, where bakers can be found grinding fresh flour from wheat grown on the grounds,  filling the air with the smell of biscuits in the oven. Families can get together to make their own Christmas decorations at the museum workshop. And children can meet some of the museum's many animals: which include horses, pigs, sheep, and chickens. Though rumour has it that the chickens might need to watch out as Christmas Eve approaches … 
Frilandsmuseet will be publishing further details on the dates and prices for their Christmas calendar later this month – but expect the event to go on for two weekends in December. You can check the museum's website for updates. Tickets for the Christmas weekends cost 95kr for adults, 85kr for the family ticket, and children under 18 go free!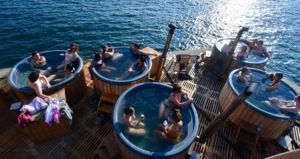 Shock your senses with winter bathing at Copenhot
When in Rome, do as the Romans do. And when in Copenhagen – get naked and jump in the sea during midwinter. Sound crazy? Then you haven't heard of the benefits of winter bathing: a longstanding Nordic tradition that's associated with heightened happiness and invigorating the body. 
This winter, Copenhot are inviting newcomers to take the plunge with a 360 introduction to winter bathing. Instructors will take you on a 1.5 hour journey from hot to cold and across the Baltic Sea. Clad in swimsuits, Copenhot offer a range of experiences: from ice baths to fire-heated saunas with panoramic views of the harbour. There's even a luxury 'sailing hot tub' that cruises the harbour of northern Copenhagen in a haven of 40° heated salt water – something that could convince anyone to go Scandinavian (Wed-Sun; Refshalevej 325, Cph K; various events).
If saunas aren't quite your style, you can also get in on the action with Copenhagen's newest bathing zone at Kalvebod Bølge. The mobile bathing zones have adjustable bottoms, letting you sink down to a depth of up to 140cm before hopping back out into the cold air. Access is free all year round, so you could also be forgiven for waiting to take a dip until warmer weather is on its way – July, perhaps?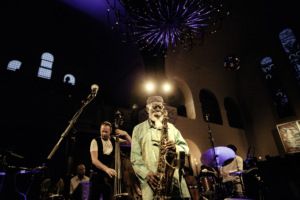 Serenade the streets with Christmas carols and Winter Jazz
Come in from the cold with the 21st annual Winter Jazz festival: a country-wide music festival that's been dragging us out of the winter blues since 2001. This year events are running between February 5-28 at what looks to be over 150 venues across the country, from Skagen to Bornholm. 
Last year's festival featured jazz talent from Denmark and abroad, from Eric Reed and Ralph Moore, to Arild Andersen and the group Svaneborg Kardyb. With events featuring everything from iconic jazz tracks in the world of film, to poetry slams howling out the cries of a new generation of activists – you'll want to keep your eyes peeled for when tickets go live for the 2021 program, and liven up the long dark winter.
If you're looking for something a little more traditional, you can also get in on the action with Christmas carolling in Copenhagen. On December 21 the church choir at Helligaandskirken will be hosting a concert of traditional hymns and carols, free to all who wish to attend (16:30; Niels Hemmingsensgade 5). While on December 23 (the day before Danes officially start celebrations) Vor Frelsers Church will feature a duo performance from singers Steen Hejlesen and Lars Sømod to fill the halls with Christmas cheer (17:00; Sankt Annæ Gade 29, free adm).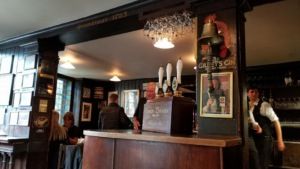 Get a taste of winter with Hviids Vinstue's famous gløgg
Hviids Vinstue is famous for many things, but best among them is their winter mulled wine, or – as the Danes aptly call it, gløgg. Taste all the warming winter spices of cinnamon, orange and cloves, infused in sweetened red wine, and served hot at Copenhagen's oldest pub. 
Right at the heart of the city, in Kongens Nytorv, Hviids Vinstue has seen nearly 300 years of the city's history – and it's worth a visit for the atmosphere alone. The bar's deep mahogany furniture illuminated by candlelight makes you feel like you're stepping back into history, with stain-glass windows and paintings of the pub's past patrons looking on.
The gløgg itself has been a Christmas tradition at Hviids since 1954, and the pub estimates that it serves over 8,000 litres of the drink each Christmas. The first glass is poured on November 11, and from then on you can not only head to the pub to while away the wintry nights, but you can also take home a bottle of your own, sold exclusively at Hviids Vinstue. Of course, the pub also offers a range of other drinks with no less than 27 types of Danish beer and a hot menu of traditional meals, so grab a coat and get hygge with a menu of winter specialties. (Mon-Thur 10:00-01:00, Fri-Sat 10:00-02:00, Sun 10:00-20:00; Kongens Nytorv 19)