News
Copenhagen football stadium transformed into massive COVID-19 test centre 
---
This article is more than 3 years old.
Just open this morning, Parken Stadium on Østerbro can help rapid-test upwards of 3,000 people every hour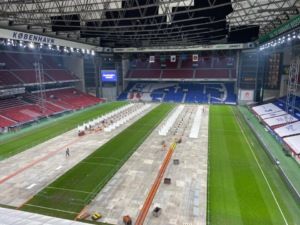 Parken Stadium is usually where football fans flock to catch FC Copenhagen or the Danish national team play games. 
But from 09:00 this morning, the 38,000 all-seater stadium in Østerbro will become Denmark's biggest COVID-19 test centre.
Upwards of 3,000 people can be rapid-tested every hour in Parken Stadium – one of four companies to have signed an agreement to provide the state with 100,000 daily test results.
READ ALSO: Denmark sets several unfortunate COVID-19 records
No booking needed
All tests in Parken will be the so-called rapid-tests, which provide a test result in just 15 minutes, although it is less reliable than the tests taken at national testing centres.
Due to recommendations from the health authority, Sundhedsstyrelsen, the stadium will also function as an express testing area for people working in critical areas of society (health personnel, police, emergency response units etc.)
Everyone else can show up for a test without booking a time at Gate H along the A tribune