News
John's long schlong: new DR kid show under fire
---
This article is more than 2 years old.
Since airing for the first time on Saturday, the new animation series 'John Dillermand' has attracted quite a bit of attention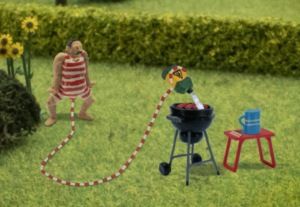 National broadcaster DR has found itself in a spot of hot water since it aired the new animation series 'John Dillermand' on Saturday.
'John Dillermand' – dillermand is a soft slang for penis in Danish – certainly split the public when it made its debut on children channel DR Ramasjang.
The series, aimed at children aged 4-8, follows John Dillermand and his long and magical penis that seems to get him into and bail him out of trouble.
From taming lions to flying about like a helicopter with his penis, 'John Dillermand' has attracted criticism as well as praise on DR Ramasjang's Facebook page.
READ ALSO: Huawei launches YouTube channel for Danish kids
Immensely popular
Some feel it panders to paedophiles, while others feel it's inappropriate given the recent #MeToo movement. But DR has swept aside such complaints.
"We want to stay out of that [#MeToo]. The series is made for our target audience, consisting of children aged 4-8 and it must be at their level. The series is not about sexualising the body," said Morten Skov Hansen, the head of DR Ramasjang.
Whatever the viewpoint, it seems to be immensely popular – at least by viewing numbers.
During the weekend alone, almost 90,000 people have seen the first episode. 
You can check it out here (must be located in Denmark to watch).
Onkel Reje, another DR Ramasjang figure who skirts controversy at times, is also immensely popular with kids – and parents as well.