News
Growing up and thriving with the IB: toddlers, teenagers, trailblazers
---
This article is more than 2 years old.
To truly make a global imprint, you need to find your inner-compass first, and then the rest will follow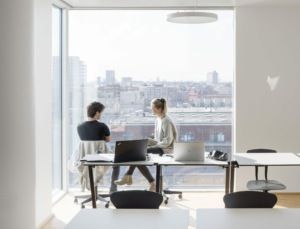 As one of the original co-founders of the International Baccalaureate in 1968, Copenhagen International School has much to be proud about. 
It is among just a handful of the schools that follow its curriculum in Denmark, guiding their students to become responsible world citizens. 
Furthermore, it is the only International Baccalaureate 'one-stop' establishment in Denmark, offering all three of the curriculum frameworks – the Primary Years Programme, the Middle Years Programme, and the Diploma Programme – which typically span the ages three to 19. 
Seamless studies
The International Baccalaureate is lauded the world over, and its global reach is part of its appeal.
Favoured by a growing number of international schools worldwide, its universal curriculum enables the children of expat workers to switch schools at the drop of a hat and seamlessly resume their studies.
Mom's swapping Malaysia for Madrid! Not a problem. Daddy's leaving Dubai to return to Denmark and you haven't spoken Dansk in earnest for seven years, then look no further!
Learning by doing
The genius of the International Baccalaureate is that the children don't think they're working very hard at all. But boy are they learning!
From the age of three, the  International Baccalaureate starts to work its magic on the kindergarten class with a heavy emphasis on learning by play.
And that doesn't stop as they move through the aforementioned programmes, when the emphasis switches to learning by example and learning what your passions are.
It is only by finding your inner-compass, contends the International Baccalaureate, that you can start to navigate this thing we call life.
Curiosity thrilled the pack
Essentially, the teaching process begins with the children's curiosity, which the teachers do their best to spark with thought-provoking material, after which they foster their growth.
If something has meaning, they will learn it; if they learn a skill, they'll see it as a natural progression, not a chore.
While some children never really engage with their education, the opposite is true with the International Baccalaureate.
Making a difference
The result is sensible, compassionate citizens of the world, who could really make a difference.
They become adults used to asking questions, expressing their opinions and listening to others, who really appreciate their place in the world and the importance of sharing it with others.
After all, globalisation and the changing world we live in is at the heart of the International Baccalaureate Curriculum. 
Nitya: find your pathway
Nitya Khandelwal is an eighth-grader and part of the Middle Years Programme at Copenhagen International School. Prior to residing in Denmark, she lived in India for eight years. 
"I think the International Baccalaureate system is a creative framework that allows students to engage with one another and the teacher. It really focuses on each student as an individual learner: a student who is going to create their own pathway," enthuses Nitya.
"They don't assess the results we provide, but actually how we achieved those results: the process. Here, the way we learn is different because we understand what we are learning – we don't memorise it." 
As well as the International Baccalaureate, Nitya credits her teachers' diligence, insight and friendliness with helping her to find her  sense of independence.
"The International Baccalaureate curriculum aims to make students well-rounded people emotionally as well as intellectually," she concludes.
Neel: learning vital skills
Neel Dalela is a fifth-grader in the Primary Years Programme at Copenhagen International School. Born in France where he lived for two years, before moving to Finland for four years, Neel has lived in Copenhagen ever since. 
He is also a huge fan of the International Baccalaureate, and he can already see how it is helping to shape his future – not least by predominantly using English, which will make it "easier to interact with people from different backgrounds and cultures" and also to study and find a job! 
"You learn a ton of things that can help you in the future," he contends.
"You learn how to research and identify reliable sources, it exposes you to different cultures and beliefs, it teaches you how to look at different perspectives of a situation, and you learn how to organise and present information and thoughts to your classmates at an early age."
Teacher: Leave those kids alone!
According to Rachel Curle, the Primary Years Programme Co-ordinator at Copenhagen International School, inquiry-based and concept-based pedagogy, a transdisciplinary approach, and student agency all help in distinguishing an IB classroom from any other. 
"The PYP is designed for co-constructed learning — a partnership of learning between students and teachers. Students start from what they already know, and build understanding from there, this is different from other systems," she reveals.
"We follow a developmentally appropriate curriculum, like all schools. However, student engagement through concepts and through inquiry, allows for much deeper level learning – far away from surface learning. This is done in many ways: developing open-ended learning engagements, opportunities for engaging with learning in different ways, encouraging questioning, developing research skills etc." 
It's good to talk!
Building a partnership with the families is key, Rachel contends.
"We do this in many ways: parent conferences, open-door policy, student-led conferences (where students share their learning with their parents) digital portfolios, reporting and also inviting parents into classes to share their expertise, culture or experiences," she continues.
"Different areas of learning are planned and taught alongside one another to make the strongest possible connections with learning: for example, self-expression taught through poetry in Literacy; through body movement and facial expressions in Drama, and through composition in Music. These teachers all plan together collaboratively to ensure the same understandings are taught in multiple ways, so that knowledge and skills are strengthened across subjects."
Equipped to succeed 
But perhaps ultimately, the most important link in the success story is Copenhagen International School itself.
"Within the campus, we are very lucky to have an amazing facility to use – especially our gyms, equipment, access to technology, science labs, design labs, library, music rooms, art rooms, theatres and so on," continues Rachel.
"We are also lucky to have generously sized classrooms and common, shared, open spaces – allowing for break out groups and flexible learning set up."
Simon: the freedom to grow
In the final years of the IB programme, Simon Pech is in the eleventh grade and attends the Diploma Programme at Copenhagen International School. 
Prior to living in Denmark, Simon respectively resided in Romania, Czechia and Lithuania, and today he is particularly appreciative of the importance of the arts, which the International Baccalaureate uniquely prioritises as a significant field of study.  
"The IB has provided me with a great opportunity to expand my horizons in life. My prior education never included a subject concerning the exploration of theatrical elements, for example. Despite being initially afraid of Drama, as I have always been an introvert, it was the first time that an important component of one of my classes was helping me be more confident, whilst speaking," he recalls.
"Looking back I can say that the IB's focus on letting people choose art subjects – for me it was Drama – has been a crucial part of my education and has helped me become a better more confident person. Similarly, now in the Diploma Programme, the focus on giving students a choice of what to do is a freedom that my Czech friends have never experienced, and one that has certainly let me feel more involved in my studies. The IB curriculum has allowed me to think about studying internationally, with me hoping to get into a university in the UK. Prior to my stay at CIS I had never even thought about that as an option, but now I see that it is becoming a solid possibility."