News
Corona Round-Up: Viking-looking doctors advised to mould their beards into their facemasks
---
This article is more than 2 years old.
Meanwhile, public are advised to get off their arse and do some exercise as the cold weather and lockdown could be a lethal combo for the years to come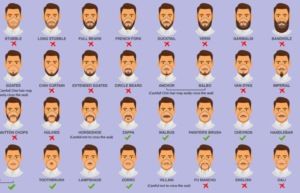 In the 1020s there was a great concern that the length of Viking beards was impeding the ability of the oarsmen to row their longboats across the North Sea as fast as their forebears.
At the time, there were no royal decrees; instead friendly advice was dispatched. "Trim the tache a tad, Thor" and "Barber the beard a bit, Bjørn", they'd say.
Now in the 2020s a similar dilemma faces their progeny, as many healthcare professionals are questioning how effective facemasks are when worn by men with large amounts of facial hair. 
Drawing on a thousand years of experience, Statens Serum Institut (SSI) has said it will "absolutely not" recommend its staff shaving them off, instead preferring to offer friendly advice.
For professionals, not the public
SSI has advised people with large amounts of facial hair to assess themselves whether their mouthpiece or respirator is a tight fit.
"If you cannot adjust the mask correctly, it can be solved in different ways," Anne-Marie Andersen, a nurse at the Central Unit for Infectious Hygiene at SSI, told DR.
"It may be that you can change the design of the beard, but it is definitely not a recommendation that people should go out and shave the beard."
SSI further cautions that its advice regarding "Viking beards" only applies to healthcare professionals, not members of the public.
---
Denmark in top ten for vaccinations … just
Denmark currently has the tenth highest coronavirus vaccination rate in the world. Some 4.47 percent of its population have received at least one jab. However, it has missed out on top spot in the Nordics because Iceland, which only has a population of 357,000, has a rate of 4.55 percent in ninth place. In Europe, Denmark ranks fifth, trailing the UK (13.95), Serbia (6.43) and Malta (6.08), while the top three are all located in Asia: Israel (54.72), the UAE (33.71) and the Seychelles (31.28). Other significant rankings include the USA (9.4), Ireland (3.27), Germany (2.77), Sweden (2.47), China (1.58), Russia (0.69) and India (0,27). A total of 57 countries have started vaccinating. 
Another vaccine supplier confirmed as delays continue
The EU has approved the AstraZeneca vaccine, thus making it the third that can be administered in Denmark. The first shipments are expected in Denmark on February 8, and the government expects deliveries over the next few months to cover the needs of 2.6 million people. However, the company recently announced a deduction, and Statens Serum Institut has now confirmed that US firm Moderna won't be delivering as many vaccines as promised next week. The downgrade on February 11 – 13,200 doses instead of 15,600 – is not drastic, and it is not thought any of the revised delivery figures will affect Denmark's plans to vaccinate the entire population by June 27. Denmark's third supplier, Pfizer/BioNTech, has also confirmed delays. As of yesterday, 184,307 people in Denmark had been vaccinated, of which 44,568 have received both doses. 
Hamburg and home: Loophole for sun-seekers returning from Dubai
Many residents unable to return from holidays in Dubai due to a flight ban are exploiting a loophole to come back without the promise to isolate: the train from Hamburg, reports TV2. The media outlet has been speaking to Danes sneaking back into their country after a holiday in the sun. As many as nine of the 22 onboard Danes confessed to catching a flight from Dubai to the German city. Eventually a 36-year-old agreed to speak anonymously. "Quite a few of us went to Dubai," she said. "And it was great."
Focus switching to 15-minute tests to target workplaces and communities
With the onset of February, the coronavirus testing strategy has changed in Denmark, with the focus switching from 'Get tested' to 'We'll come to you': mobile test centres that target communities and workplaces where people are reluctant to or struggle to get tested. The number of permanent test centres has been halved from 61 to 33, while the mobile test capacity has been increased, with a view to the two carrying out 40,000 and 60,000 tests a day respectively. Falck and Copenhagen Medical have lost their state tenders to carry out 15-minute COVID-19 tests, with responsibility now falling on Carelink for the Region of Southern Denmark, and SOS International for the other four. Concerns have been expressed that not enough 15-minute tests are being carried out, even though studies suggest they are not particularly accurate. On Saturday, of 25,421 15-minute tests, only 85 were positive – a 0.33 rate.
Respected doctor warns of couch potato timebomb
Bente Klarlund, one of the leading doctors attached to Rigshospitalet and the University of Copenhagen, who is the head of the Center for Active Health, warns that Denmark is sitting on a couch potato timebomb due to the cold weather and coronavirus lockdown. "It is a huge experiment with our health," she warned to TV2. "In just two weeks [of inactivity], you lose muscle mass and get more fat around the organs, more fat in the blood and are closer to getting diabetes." For every eight hours sitting at a screen, an hour of brisk walking is needed, advises Klarlund. "Paradoxically, the introverted lifestyle that many have experienced for fear of corona can end up putting them at greater risk for a streak of other diseases in the long run," she added.