News
National Round-Up: Have you got a Saturday night fever you're worried about?
---
This article is more than 2 years old.
Hopefully not, but you should be worried about the weather this weekend! Wrap up warm as freezing winds will make it feel like it's -15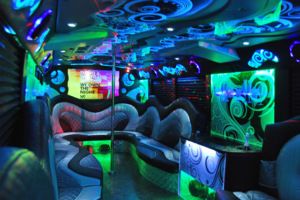 "Listen to the ground, there is movement all around, there is something goin' down, and I can feel it!"
'Saturday Night Fever' is booming down your street, and you're confused.
But never fear because Glostrup Municipality has hired a party bus, complete with disco lights and revolving ball, to serve as a mobile coronavirus test centre.
It could end up being the difference in you staying alive.
Just missing a few drinks
Every day it is visiting the municipality's workplaces, schools and institutions to entice the local residents and workers.
TV2 spoke to Anette Stradel, a local teacher who used the service on Wednesday night.
"It was so nice with the disco lighting. There were just a few drinks missing," she said.
Survive like a VIP
And there is also a VIP element, as you enter by the front and leave at the back.
So next time you need a test, listen out for the music.
All together now: "I will survive."
---
Minus 15 in places: Ice days ahead with strong winds expected
The next couple of days promise to be even colder as wind speeds pick up across the country. Meanwhile, the medium-term forecast has not changed: it's ice days all the way until mid-February at least. Cold air blowing in from the east and northeast from western Russia is the culprit. Only on the Baltic Sea coastlines might there be some respite from the freezing temperatures thanks to the relative warmth of the water, but this could easily result in snow. Over the weekend, the temperature will sink further, and strong winds will render a wind chill factor of -15 in many places. And then next week, even without the wind, thermometers could reach double digits during the night as the coldness continues. Forecasters admit that predicting snowfall is problematic, and that local differences have already been noted this winter in which one area has had a lot and another relatively close area has had next to nothing.
Counterfeit corona tests circulating among people trying to enter Denmark
At least 13 foreigners have been caught trying to enter Denmark over the past fortnight with forged coronavirus certificates claiming they had tested negative in a recent test, according to a TV2 analysis of regional police statistics. Another five are suspected of doing the same. The majority were caught at the border with Germany. Many also had fake employment contracts. Such scammers risk being sent to prison. Romanians and Poles are among those who have been detained. The demand for counterfeit corona tests can be particularly high at airports, when passengers realise they quickly need one to board a flight. 
Weekend pick-ups in store as PostNord gives in to the demand
PostNord, buoyant after confirming a healthy profit for 2020, has confirmed that from March many of its outlets will be open over the weekend. With online sales booming due to the corona lockdown, there has never been a greater demand for deliveries, and PostNord is capitalising. Around 1,500 PostNord delivery points will be open nationwide. "We know that a lot of people shop online over the weekend, and when the orders are placed, the delivery must come quickly," explained Stine Sander, the head of e-commerce and packages at PostNord, to TV2.
Frozen ice dangers highlighted by dog walker's unwise decision on Funen
A 45-year-old man is in a critical condition in Odense Hospital after falling through frozen ice on Thursday in nearby Davinde, where he was trying to rescue his dog. It's a reminder to the people of Denmark to not walk on the ice of the nation's ponds, lakes, canals and rivers until they have been given the green light by their local municipality. The police are entitled to fine you 1,000 kroner for walking on the ice in the meantime. 
Motorists in trouble on icy roads
Falck helped in excess of 200 motorists on Thursday morning as driving conditions worsened following snowfall on Wednesday and frosty conditions the next morning. Many vehicles have simply slid off the roads.