News
Hundreds of cars cross unwatched German-Danish border at night
---
This article is more than 2 years old.
By random checks, the police mean occasionally during the day, but none during the early hours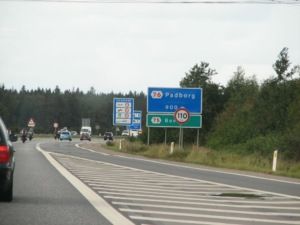 Over the course of just one night, over 200 vehicles drove across the German-Danish border without having their corona test results checked by the police, reports TV2.
And this apparently happens in more than one place every single night, claims the broadcaster.
TV2 observed how a checkpoint near Padborg was unmanned between 23:00 and 06:30. Soon after the police left it, a flurry of vehicles bearing Danish, German and Polish licence plates drove through without presenting negative COVID tests.
The check point was then reopened at 06.30 the following morning.
Police: Random checks only viable option
The minister of justice, Nick Hækkerup, has furiously called the situation "unacceptable". He and experts contend that this poses a public health risk, as the people in these cars could be carrying the virus, and any of its variants, and then spreading it in Denmark.
However, the police insist it would it be impossible to permanently man all 13 road crossings across the 70 km border. Instead random tests are carried out – a deterrent that should ensure the vehicle passengers have the necessary tests.
"We have a border that is 70 km with 13 border crossings, so you have to make a decision whether you want to do a full control, or if you want to do what we do, which is a random border control with as many checks as possible," explained Jørgen Martin Meyer, the head of Southern Jutland Police, to TV2.
Minister: there will be more checks
Hækkerup emphasised that the police had been doing an "excellent job" up until the incident, but that to have no checks whatsover was unacceptable.
"I do not think it is good enough that we have a border crossing point where there is no checking all night. That is why I have also asked the police to carry out checks there in the future," he told TV2.
Peter Skarrup, an MP for Danske Folkeparti, feels the public are being misled into thinking the checks are compulsory and that they are unaware they are potentially risking the health of those in Denmark.