News
Flower power: Insist on fair trade this Valentine's Day!
---
This article is more than 2 years old.
Time to rethink the roses for romance approach and show some sensibility for sustainability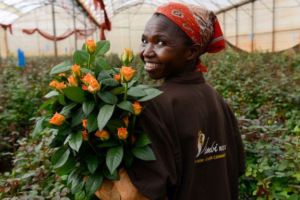 We know, we've all been there on Valentine's Day. 
Flowers, a card and chocolates, dinner at a restaurant, some pampering at the spa, and maybe even some lingerie: it seems like a fair trade for a romantic evening. 
At the very least, your partner should smile, provided you didn't buy the lingerie at a discount supermarket.
But beware, shoppers, as there's a purchase decision on February 14 that could scupper your hankering for a 'fair trade'. And the clue is in the name.
Time to speak up
Danes might be famous for purchasing ecological products, but this logic doesn't seem to apply to the roses they buy. 
Now, the organisation Fairtrade is encouraging consumers to demand sustainable flower choices.
The coronavirus has disrupted many purchasing habits in Denmark, so according to Fairtrade this is the perfect opportunity for its people to change the way they are buying their flowers. After all, the past year has shown that consumers are willing to pay more for luxury items.
However, only 5 percent of the flowers currently on sale in Denmark are labelled as Fairtrade.  This has to change, and consumers also have to speak up for the change to happen.
Sweden ahead
On the other side of the bridge, Sweden has a completely different approach to ecolabels and flowers. Of the annual 100 million roses sold in Sweden, more than half are labelled Fairtrade.
In the online shop sphere, most of them have already switched to sustainable bouquet options.
According to Camila Erika Lerbeg, the head of Fairtrade Denmark, this could be the future here as well. 
There is a market for pricier eco-items, but it is down to Danish consumers to let the shops know that they are interested in switching to these types of flowers.  
Not just a label
Flowers sold in Denmark mainly arrive from the Netherlands, Kenya, Tanzania and Ethiopia.
Even when you factor in the air travel, the flowers labelled as Fairtrade from east Africa still have 5.5 times less greenhouse emissions than those grown in The Netherlands.
The difference comes from the energy required to heat the greenhouses, as opposed to the natural heat of east Africa.