Things to do
 A truly cultivated country
---
This article is more than 2 years old.
Ten things you didn't know about Lithuanian culture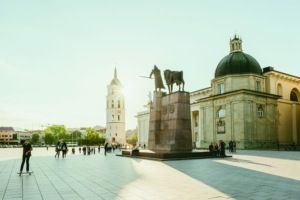 Lithuania's legions of basketball legends epitomise the national identity of a country, as their creativity, guile and indomitable spirit are mirrored in the achievements of their compatriots. 
This vibrancy particularly shines through Lithuania's opera scene, where world-class composers, singers and conductors are produced with such regularity that the world is taking notice.
All eyes on Kaunas
Across the arts, and increasingly in other creative fields, Lithuania is becoming a force to be reckoned with, and  this will no doubt be highlighted next year as Kaunas will spend 2022 as a Contemporary European Capital of Culture.
Here are ten tasty morsels to whet the appetite.
---
1
Lithuanian culture will gain a worldwide audience next year as Kaunas has been named a Contemporary European Capital of Culture for 2022. Organisers are calling their program of 1,000 events featuring both Lithuanian and international creatives "a visual journey from the CONFUSION through the CONFLUENCE towards the CONSCIOUSNESS". Among the highlights are solo exhibitions by William Kentridge and Marina Abramovich, along with festivals covering international performing arts, storytelling, contemporary Japanese culture and international literature. No less than ten theatre premieres and 40 other international events are planned. More information can be found at kaunas2022.eu.
2
There are an estimated 3.2 million speakers of the Lithuanian language today, of which 2.8 million live within the country's shores. Modern Lithuanian is one of only two surviving Baltic languages along with Latvian, which it is closely related to. Written in a Latin script, it retains many of the features of its Proto-Indo-European past, including some pretty archaic grammar and phonology, and it is accordingly a popular one with linguistic historians. For example, there are 12 noun and five adjective declensions.
3
It should hardly be a surprise that Mirga Gražinytė-Tyla grew up to be a top-level conductor as her family is as musical as the Jacksons. Classic FM named her as the best female conductor in the world in 2019 in recognition of her appointment as music director of the City of Birmingham Symphony Orchestra, and she followed it up a year later by scooping the Album of the Year prize at the annual Gramophone Awards for her debut record. What's remarkable is that she doesn't even play a musical instrument!
4
Coronavirus-permitting, Copenhagen Contemporary will stage the Lithuanian opera 'Sun and Sea' in late May. Staged on a beach full of sun-seekers oblivious to Mother Earth's suffering at their hands, its focus on pressing ecological themes has won wide acclaim, including the 2019 Venice Biennale Golden Lion award, which was shared by the three female forces behind the opera: Rugilė Barzdžiukaitė, Vaiva Grainytė and Lina Lapelytė. Tickets will hopefully go on sale in March. 
5
The impact of the career of painter and composer Mikalojus Čiurlionis (1875-1911) on the Lithuanian arts scene was of such magnitude they ended up naming an asteroid after him. His symphonies Jūra ('The sea') and Miške ('In the forest'), both tributes to the Lithuanian landscape, along with his nouveau art, have influenced legions of creatives since his death, not least Jack Ellitt (1902-2001), an ethnically Lithuanian composer and musician of renown, who specialised in film scores. 
6
Lithuanian-American filmmaker Jonas Mekas, who died in 2019 aged 96, is commonly referred to as the godfather of American avant-garde cinema. Born in Semeniškiai, he emigrated to the US in 1949, where within two weeks of his arrival he borrowed money to buy a Bolex 16mm camera, with which he started documenting his life. Within the world of avant-garde cinema, he quickly became a legend as a curator, founder, journalist, lecturer and leading light. And he was active in Fluxus, an early 1960s, New York-based, countercultural movement founded by George Maciunas, a fellow Lithuanian. His other collaborators, mostly of that exciting era, included Andy Warhol, Allen Ginsberg, Salvador Dalí, and Yoko Ono and John Lennon, to whom he loaned his limbs for their 1971 film 'Up Your Legs Forever'. In 2007, he released a film every day for his project 'The 365 Day Project'.
7
A number of distinguished American creatives are the children of Lithuanian immigrants, who grew up speaking Lithuanian at home: most notably Golden Globe-winning actor Charles Bronson, Oscar nominee Laurence Harvey and Jerry Siegel, the co-creator of Superman. A great number of others have Lithuanian ancestry, including musicians Leonard Cohen, Bob Dylan, Pink, AC/DC drummer Phil Rudd and Anthony Kiedis, the lead singer of the Red Hot Chilli Peppers; actors Sean Penn, John C Reilly, William Shatner, Jason Sudeikis and Don Rickles; and film directors George Romero and Robert Zemeckis. Over in the UK, both Brian Epstein, the manager of the Beatles, and Billy McNeill, the captain of the Lisbon Lions, were half-Lithuanian. 
8
What do recent TV series 'Chernobyl', 'Catherine the Great', 'Stranger Things' and 'War and Peace' have in common? They were all entirely, or partially, filmed in Lithuania. Production companies are drawn by the close proximity of stunning architecture and landscapes, as well as the authorities' assistance in lending them whole city districts if need be. Vilnius Old Town in recent years has twice been transformed into Russia – of the 18th century for Catherine the Great and of the 19th century for War and Peace! The latest visitors were Netflix, to shoot season four of 'Stranger Things', which was partly filmed at the capital's Tsarist-era Lukiškės prison. It is fitting that a country with a cinematic past as rich as Lithuania's has hosted so many renowned stars, but few of them can compete with Donatas Banionis, the lead actor in Andrei Tarkovsky's 'Solaris', a regular in most critics' top 100 films of all time lists. 
9
As the 2019 winner of the best female singer at the International Opera Awards, Asmik Grigorian is truly a global star, although there are some who might dispute her being her country's best operatic soloist. Both fellow soprano Violeta Urmana, 20 years her senior, and base-baritone  Kostas Smoriginas have strong claims! Other distinguished Lithunian names in the world of classical music today include Žibuoklė Martinaitytė, Osvaldas Balakauskas and Giedrė Šlekytė (composers), and Lukas Geniušas, Julian Rachlin and David Geringas (musicians), while Jascha Heifetz, who died in 1987, is generally recognised as being one of the best violinists of all time. Continuing in the arts, other contemporary names worth mentioning are Stasys Eidrigevičius, Vilmantas Marcinkevičius,  Deimantas Narkevičius and Žilvinas Kempinas (artists), Oskaras Koršunovas (stage director), Antanas Sutkus (photographer), Tomas Venclova and Algis Mickūnas (writers) and Vladimir Tarasov and Silvana Imam (contemporary musicians). Finally, as this supplement is marking 100 years of diplomatic relations with Denmark, we must mention the painter Vilmantas Marcinkevicius. On the occasion of Prince Henrik's 80th birthday in 2014 he had the honour of painting the Prince Consort. He is celebrated as one of their own in the Jutland city of Viborg, where the bishop is one of his biggest fans!
10
Unlike Latvia and Estonia, who won back-to-back Eurovisions in the early 2000s, Lithuania has never won the continent's premier song contest. However, they were responsible for one of the contest's most memorable songs. LT United finished in sixth place in 2006 – Lithuania's best result to date – with the song 'We Are the Winners', a wonderfully subversive number that grabbed a maximum 12 from Ireland and 10 points from the UK. Sample lines included "We are the winners of Eurovision; We are, we are! we are, we are!" and "Vote, vote, vote, vote, vote for the winners". Did you know that The Roop may very well have won the 2020 edition had it gone ahead. Not only were they the bookmakers' favourites with 'On Fire' , but the song won several simulated contests online. The Roop will represent Lithuania in 2021, but with another song: 'Discotheque'.