Sponsored content
The Place to Jump on Trampolines in Copenhagen
---
This article is more than 2 years old.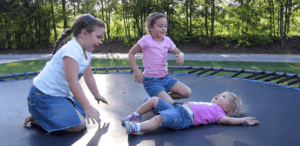 Spring and summer are coming up and the question is what to do with all the free time during holidays. With a spacious, quality trampoline in the garden, you can have easy access to a fun way to exercise all while getting the kids active as well.
Trampoline parks have become all the rage the last couple of years. It is a fun place to let loose and have fun with you best friends or family. But what do you do when it is not always an option to go to a trampoline park. Get a garden trampoline of your own of course!
What a Dane would call a havetrampolin is a fantastic toy to have right by your home. After the trampoline is all set up, it does not get easier than to simply walk outside your door, to have some fun exercise and get the adrenaline going.
Not just for the kids
A garden trampoline is a toy that is not only loved by kids, but by adults as well. Not matter the age, you get to play and feel like a kid again when you try to jump as high as you possibly can – higher than the others!
You can feel safe while jumping away, as the springs and other structural element of these garden trampolines are made of high quality materials. The optional net that surrounds the trampoline also provides security, in case you get too enthusiastic and jump near the edge.
Garden trampoline test
Different garden trampolines have been put to the test so you don't have to. Springs, mat and longevity have been considered and rated according to security aScripnd quality. So you can feel safe choosing a trampoline of one of our recommended brands to start having fun.
The reasons to have a garden trampoline are many:
– You have a playful activity at hand when you invite friends over.
– Everybody can join in regardless of age.
– It is good cardio and strengthens your muscles.
– It is a great pass time for the kids.
And possibly, most importantly: it brings out the smiles! Jumping on a trampoline while frowning is simply not possible. (Try it out next time, if you don't believe it.)
So, get your heart rate up, with and easy and accessible garden trampoline for whenever you a fantastically fun way to get some movement in, either alone or with company.