News
Goodbye Hviderusland: Government officially embraces Belarus name change 
---
This article is more than 2 years old.
Foreign Ministry change comes in the wake of the huge peaceful demonstrations that have been ongoing in the country since last summer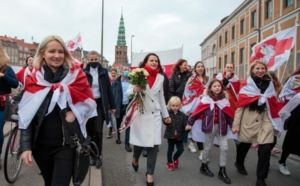 From now on, the Foreign Ministry will no longer use 'Hviderusland' when referring to Belarus in official settings. 
In support of the massive peaceful demonstrations against President Aleksandr Lukashenko since his controversial re-election last August, the name will be 'Belarus' from now on.
"One mustn't underestimate the support you can give through a name change. And I know that the people appreciate it because it's about identity, national independence and respect," Jeppe Kofod, the foreign minister, told DR Nyheder.
Sweden and Germany are among the other countries to have changed their official naming of the country to Belarus.
READ ALSO: Belarusian opposition leader in Copenhagen: Tik tock Lukashenko
What's in a name?
The name change has been greatly praised by the Belarusian community in Denmark, which has long complained that 'Hviderusland' sounds too much as if it is a small territory of Russia (Rusland in Danish).
"It's fantastic news and it's about time. Because we are Belarusians and I look very much forward for it to be more widespread."
"It grants us a kind of pride. We have been proud of our nation since '91, when we became independent. So it speaks to our hearts and that national feeling," Anastasia Valentin Rasmussen, a board member of the 'Talaka – Friends of Belarus in Denmark' organisation, told DR.
Since the protests in Belarus began, Denmark has been among the leading EU countries applying pressure on the Lukashenka regime through, among other things, sanctions.
And a few months ago, leading Belarus opposition figure Svetlana Tikhanovskaya visited Copenhagen and spoke with the government.