News
Weather forecast with only a hint of sarcasm: Easter in Denmark will be sweltering!
---
This article is more than 2 years old.
Temperatures as high as 15 degrees forecast for Holy Week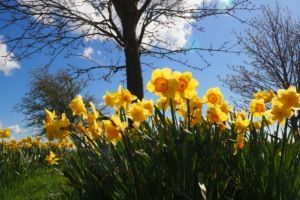 Denmark has a habit of taking us out of winter and then straight back in again.
Cue Michael Corleone clenching his gloveless, blistered fists, yelling: "Just when I thought I could feel my hands again, I need to retrieve all my woollens from storage!"
But there are signs the weather is about to get warmer over Easter: a hell of a lot warmer.
Holy cow … that's warm
In Week 13, which is pretty much Holy Week, as it starts next Monday, temperatures could reach a whopping 15 degrees in some parts of the country. 
Sometimes we like to sarcastically refer to such 'heat' as sweltering via social media, and we get told off by earnest readers for being inaccurate.
This time, it is indeed sweltering … compared to what we can normally expect in late March/early April.
Sandwiched in
We have a 'perfect storm' to thank for the warmth, as we will be sandwiched between a low pressure system taking an unexpected turn off the North Atlantic via the Norwegian Sea, and high pressure south and southeast of the country
With neither willing to budge, the result is that our weather will arrive from the west: "predominantly mild and humid air with a gentle mix of sun and clouds", according to DMI.
Rain and wind still inevitable
Of course, there's a chance it will be frosty, rainy and windy at times – this is Denmark after all.
Expect daytime temperatures of between 7 and 12 degrees, with the possibility of thermometers reaching 15 mid-week – most probably on Wednesday 31 March.