News
Petrol station chain to embrace electric car chargers 
---
This article is more than 2 years old.
From today, the Circle K chain will provide rapid-charging stands in Copenhagen and Odense in a bid to cater to increasing demand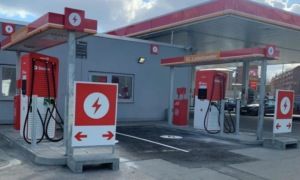 Electric car owners have already been able to charge their cars at the petrol station chain Circle K in Aarhus and Aalborg.
But from today, customers in Copenhagen and Odense will be able to rapidly charge their electric cars in certain locations.
The charging stations will have 300 kW stands, making charging an electric car about as speedy and convenient as with traditional petrol-driven cars.
"Many talk about doing something about electric car infrastructure, but we have decided to act," said Sisse Follmann, Circle K's head of electricity and fuel production.
"We know that some may see us as part of the 'old guard' within fossil fuels, but given the number of stations we have nationwide, we offer massive potential in regards to securing green infrastructure in Denmark."
READ ALSO: Copenhagen sees record number of electric car sales
Popular and free … for now
Circle K has experienced huge demand at its charging hubs in Aarhus and Aalborg.
Since being introduced earlier in 2021, a total of 3,200 cars have been recharged in the two cities.
And as is the case in the two Jutland cities, charging will initially be free in Copenhagen and Odense until a payment system is introduced at some juncture.
Circle K, which operates 225 stations with shops and 150 petrol-only stations across the country, aims to establish electric car charging hubs at 18 of its stations by the end of 2021.
Earlier this year, it emerged that the sale of new electric cars skyrocketed by 141.4 percent in 2020 compared to the prior year.