News
This is vaccination control to Major Mette: You've really made the grade!
---
This article is more than 2 years old.
Though we've past 100,000 jabs, we're feeling very chill … bar a few hiccups mostly relating to 'Danish punctuality'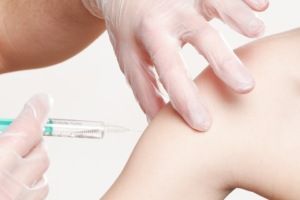 Despite some small hiccups related to traffic, parking, IT and the public turning up too early for their appointments, yesterday's big vaccination day in Denmark has been hailed a big success, as close to 100,000 people received a jab against the coronavirus at 68 centres across the country.
The good performance means that 15.13 percent of the nation have now received at least one jab, while 7.7 percent are fully vaccinated.
And as an additional bonus, the total number of infections yesterday was only 514 – a fall of 177 on the day before, offering further proof that a new wave following Easter and recent reopenings looks unlikely for now.
'Danish punctuality' a problem
"There are some places where we have to improve, primarily in relation to problems with access and exit conditions, parking, logistics at the centres and some minor IT outcomes locally," conceded Stephanie Lose, the chair of Danske Regioner, according to DR.
But the biggest concern, according to Lose, is 'Danish punctuality' – the tendency of the public to turn up too early to everything: from dental and doctor appointments to picking up your kid up from a birthday and dinner parties.
"[Back in January when 35,000 were jabbed], we learned that logistics are really important, but also that many actually arrive in really good time. This is, of course, a positive in many ways, but it can actually cause a bit of queuing," she said.
No official figures yet, but 100,000 looks likely
No official figures have been announced yet, but Lose is confident that around 100,000 people got jabbed.
"We have to see how many were booked and how turned up, but I'm pretty sure we'll get close to 100,000. The reports have been that it is proceeding according to plan," she told DR yesterday.
"There has been some queuing and some traffic flow, which can present some challenges. And there can be some challenges when the IT system does not provide the interplay that one would like. But so far it has been manageable.
PM happy … could more reopening plans be imminent?
PM Mette Frederiksen seemed satisfied upon her visit to Roskilde Congress Center. 
"It's almost a holiday: 100,000 Danes are vaccinated. The last time we vaccinated on a large scale, it was primarily our very oldest who were vaccinated, and today you can easily see how things have moved on," he said.
"We are getting a lot of people vaccinated today in their 70s, and that means that we are getting closer and closer to the time when enough of us are vaccinated that we can have Denmark reopened completely."
It has been widely reported that from Thursday the health minister, Magnus Heunicke, is expected to lead negotiations regarding further reopenings.