News
Nuclear apocalypse = when winter never ends … like in Denmark recently
---
This article is more than 2 years old.
Following the coldest spring night in any youngster's living memory, when are the authorities going to fess up and tell us what the hell is going on with the weather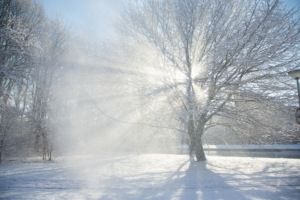 Has there been a nuclear apocalypse, but nobody's bothered to tell us yet?
Because with nuclear apocalypses, winter never ends. It just continues forever.
Like in Denmark recently.
Down at minus 6.8
In east Jutland last night, the coldest temperatures for three decades this late in the spring (yes, it apparently started on March 20) were recorded.
Thermometers plunged down to as far as minus 6.8 degrees near Horsens.
In comparison the capital region was a tropical paradise with temperatures soaring to 3 degrees above zero.
Snow, sun, hail, rain, repeat
TV2 reports it was the coldest spring night for three decades. On 21 April 1991, a temperature of -7.3 degrees was recorded in Central Jutland.
But seriously, is there something they're not telling us. Sleet, snow, hail, rain, brief moments of glorious sunshine followed by ferocious winds and blizzards … we've seen it all this past week or so.
We had a warm spell just before Easter, but since a forecast blizzard on Monday April 5, the bad weather has kept on returning – on days the national meteorologist DMI has assured us would be free of precipitation.