News
Denmark reopening for wining and dining: Half the town out on the razzle, but is it enough?
---
This article is more than 2 years old.
Despite anticipated avalanche of a quarter of a million, Horesta concerned that huge interest could fizzle out in a matter of weeks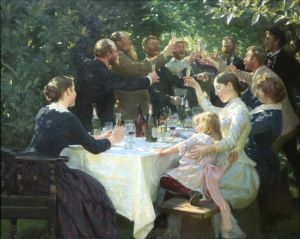 If you thought you were going to stroll to your favourite restaurant this Friday or Saturday, sidle into a spare table and eat your first meal out on the town this year, then think again. 
According to figures reported by DR, at least 223,000 people in Denmark will be dining out in the foreseeable future at booked tables across the nation. 
Some 27,000 bookings have been reported for today – a trend that is set to peak on Saturday with 41,000.
Randomly, the broadcaster selected 40 restaurants – ten each in Copenhagen, Aarhus, Odense and Aalborg – and found that 16 were already fully booked on Friday, including half of those in the capital.
Horesta still concerned
The figures, obtained by booking systems DinnerBooking and Easy TableBooking, suggest that far more restaurants than anticipated are opening following today's relaxation of restrictions, which permit restaurants, bars, pubs and cafes to again serve customers, both indoors and out.
Nevertheless, industry interest group Horesta, a fierce critic of the reopening plans, remains worried it won't be enough. 
"It's great that so many have already booked a table. To that extent, we needed it. But we are still worried," spokesperson Kristian Nørgaard told DR.
"Firstly, we had hoped the numbers would be even higher, as the distance requirements, assembly bans and the early closing times will have an impact on the restaurants' turnover. Sure, we have just had our holiday pay, but we have seen how the amusement parks, which have been open for a few weeks now, are struggling to attract guests."
While outdoor diners won't need a corona pass, indoor diners will. All bookings must be made at least 30 minutes before arrival, and all establishments must stop serving at 22:00 and close by 23:00. There are also restrictions concerning the size of the party (ten) and distance required between diners (one metre).