News
Text machinations? Danish Oscar nominee accused of plagiarism
---
This article is more than 2 years old.
Elvira Lind, the wife of Star Wars star Oscar Isaac, accused of stealing idea from Turkish film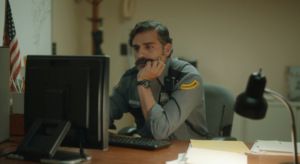 A Turkish filmmaker has confirmed to Politiken newspaper that he has assembled a legal team with a view to taking action against Oscar-nominated short film director Elvira Lind, the Danish wife of Star Wars star Oscar Isaac. 
Serhat Karaaslan contends that Lind's film 'The Letter Room', which on Sunday narrowly missed out on winning the Oscar for 'Best Live Action Short', is based on his own 2019 feature-length film 'Passed by Censor'.
Lind's team deny knowledge of film
The plagiarism accusations first surfaced in IndieWire, which reported how Karaaslan became aware of the similarities through social media and comments by various film critics.
Representatives of Lind told IndieWire that nobody involved in 'The Letter Room', which stars Isaac as a prison officer charged with reading prisoners' letters, had seen or was even aware of the Turkish film when they heard about the potential lawsuit.
Support from Turkish media
A story concerning the accusations first broke in the Turkish media on April 11 in the newspaper BirGün, which noted that the similarities were yet another example of a Turkish film not getting its just due for influencing another production. 
Cumhuriyet and Posta newspapers also took up the baton, with the latter describing 'The Letter Room' as a "cheap copy" of 'Passed by Censor'.
Lawyer: Beyond a reasonable doubt
"We're considering our legal options with our co-producers in Turkey/90 Film Production, Germany/Departures Film and France/Silex Films, as we were also in the process of discussing an English version of 'Passed by Censor'," Karaaslan and his team told IndieWire. 
"We did not have any financial bargaining attempts. Here's what our lawyer told them: Beyond a reasonable doubt, this is not just an issue about the breach of moral rights; it is also damaging financial rights of the movie."
Inspired by a podcast
Lind in turn claims she was inspired to write the script after hearing a podcast.
She told Free to Work last year: "It told the story of different men who were all unknowingly writing love letters to the same woman. She started to ask for money and help with rent, but the letters she wrote were so wonderful and all these men were very in love with her."