News
Full reopening for schools, but how many are able to comply given the short notice?
---
This article is more than 2 years old.
Meanwhile, higher education students in Copenhagen can increase to a 30 percent physical attendance, which is in line with the rest of the country, but are they happy? No!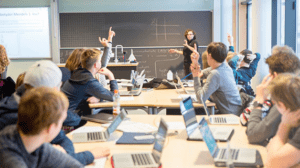 From today, children attending grades 5-8 at public school will return to 100 percent physical attendance, while university students in Copenhagen will be permitted 30 percent – in line with the rest of the higher education establishments in the country.
Due to the two-day notice of the reopening from the government, it has been a race against the clock for most public schools to be ready by Thursday morning, according to Gordon Ørskov Madsen, the chair of the Danish Teachers' Association. 
The minister for children and education, Pernille Rosenkrantz-Theil, understands that not all schools have had enough time to be fully ready.
"It's not a competition about who opens the fastest. It is really important that the schools give themselves time to get the logistics in place," she told DR
Too little, too late
With the new reopening agreement, Greater Copenhagen university students will finally be able to have the same physical attendance as the rest of the country. Previously they were only permitted 20 percent.
But according to several students, the reopening plan for higher education is not good enough. Mike Gudbergsen, the head of the DSF students' union,  says the plan to increase the capacity to 50 percent on May 21 is too little, too late.
"By that time, students will be studying for their exams, so it is limited how much of the 50 percent will be spent onsite,'' he told DR.
"I wish the first social meeting the students had after the reopening was on campus and not in the bars or gyms."