News
First mini-golf burger bar opens in Copenhagen
---
This article is more than 2 years old.
Get stuck into a burger and a free beer if you pop down to the Meatpacking District for a session sometime today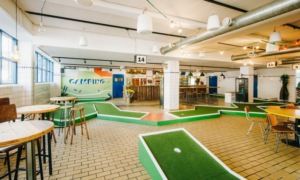 It's difficult to pinpoint exactly what people missed the most during the long and arduous COVID-19 lockdown.
For some people it was going to the pub for a drink, while for others it was being able to eat out or have a laugh with their pals. 
Well, how about all three at the same time!
As Gene Wilder once yelled in unbridled delirium: "It …Could …Work!".
'Camping' , a new joint that has opened in the Meatpacking District, involves going to the pub for burgers and mini-golf. 
The concept is the first of its kind in Copenhagen and involves patrons enjoying burgers and beer while playing a 14-hole mini-golf course.
READ ALSO: Once ØNSK, coffee-lovers never go back
Designed by mini-golf's Tiger Woods 
The mini-golf course is custom-designed by former European champ Anders Gudmundstuen, and the food is supplied by the Cocks and Cows chain.
"We've introduced shuffleboard and pool in some of our locations to complement the food experience, which has sparked fantastic feedback from guests," said Lasse Wiwe, the co-founder of Cocks and Cows. 
"So with Camping in the Meatpacking District we are going all out. Anders [Gudmundstuen] is like the Tiger Woods of mini-golf, and the course includes all levels of difficulty. We really think that people will fall in love with Camping."
Located at Kødboderne 9, Camping will have a Happy Hour every day from 16:00-18:00, which includes all pints costing 35 kroner.
To celebrate the opening, Camping has offered a free beer to everyone who books a mini-golf session today. You can do so here.
And while there is immense interest, there are still spots up for grabs.