Sponsored content
How to make your dinner nights with friends easier
---
This article is more than 2 years old.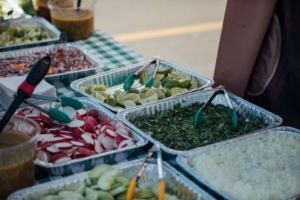 Have you ever experienced inviting your friends for a dinner night, but being stressed because of your everyday-day? One solution, in order to avoid that, is catering. Catering provides different meal choices, so whatever, whenever and for any occasion you need it, they have it. Imagine, having a really stressful day at work, coming home and all of a sudden you remember, that today is the day where you invited your friends over. And not enough about that you promised a really nice dinner with some good wine. But you also know that you won't have any time to live up to your promises. You are becoming very stressed and getting in a bad mood. When people get stressed, there is this autism that they reflect on others, even if they don't want to. So why start a supposedly fun night with friends, with bad vibes, when you can choose from the diner transportable menu? 
Benefits of the transportable menu
With the transportable menu, it is not only about the opportunity to choose between different menus. It is about creating good vibes, with food and happy faces and not only in the host's face. Catering safes you a lot of time in the kitchen. Sometimes you might find yourself in the kitchen for hours, while you can't really interact with your guests. Catering can change that. They deliver the food, well done, cooked and at the right temperature while you are giving your guest company. Also, sometimes it might be difficult to find the perfect meal, since not everybody who's attending your event eats the same. With the choices of different menus, you can pick different meals in order to provide food for everyone. Furthermore, it doesn't matter if you have 10 guests or if you are planning on a big wedding, with 150 guests. The transportable menu can handle it all. And the most important benefit of Catering is that good vibes are guaranteed. You, as the host, won't be having to stress about anything but giving your guests good company and enjoy a glass of wine with them, without stressing about the bowling pasta or the meat in the oven. And your guests, on the other hand, will appreciate your company and calmness. It will reflect on them. So, you will find them in a really good and calm mood too.