News
How does Denmark decide Syria is a safe place to return to
---
This article is more than 2 years old.
Crossing Borders' podcast sheds light on the government's decision to send Syrian refugees back home and ramifications thereof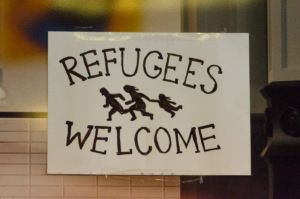 Agom Yacoub, a Syrian political activist and refugee in Denmark, has expressed concerns that someday he could have his residency taken away, despite his current permit being valid.
"I still don't believe what is happening. I don't know how to convince them that Syria is still in conflict. Actually, things are getting even worse because Assad is going to be re-elected," Yacoub recently said in a podcast produced by Crossing Borders, a non-profit organisation that focuses on educating and empowering communities across cultures.
Recently, Denmark became the first country to revoke temporary residency of Syrian refugees, a move that attracted heavy criticism from human rights organisations.
Morten Goll, artist and director at Trampoline House, an organisation that works to ensure the sustainable integration of refugees and asylum seekers, said in the podcast that integration is not the problem.
In Trampoline House, it is possible to properly integrate refugees as they are needed especially in the western part of Denmark where there is a shortage of workers, he maintained.
READ ALSO: "It's safe to go home": Denmark strips residency permits of Syrian refugees
Returns must be voluntary, safe, and dignified
Denmark began reassessing Syrian refugees last year, and decided that it was safe for them to return home as the situation has "improved" significantly.
Due to that, a joint statement by analysts, researchers, and other experts on Syrian context was published by the Human Rights Watch expressing condemnation of the decision.
The statement brought the testimonies into question and demanded that the government revise its conclusion as "safe return to Syria does not presently exist".
The EU and UNHCR have stated that any returns should be voluntary, safe and dignified. 
READ ALSO: Danish report: Security improves in parts of Syria
Danish immigration spokesperson, Rasmus Stoklund, claimed that 137 Syrians returned voluntarily last year. There are 35,000 Syrians living in Denmark and more than half of them arrived in 2015.
Without diplomatic relations between Denmark and Syria, authorities have no right to deport Syrians. Instead, Syrian refugees are sent to detention centres, which have been described as being among the worst in Europe.
"There's no empirical data supporting the idea that people return home because of the conditions," said Martin Lemberg-Pedersen, an associate professor in migration studies at the University of Copenhagen.
"But there's a lot of data to show that they break down and have severe psychosocial trauma because of the conditions in these camps."
Listen more about this topic on Crossing Borders' podcast here.