News
Sports Round Up: Tour de France organisers visit Denmark to review route
---
This article is more than 2 years old.
Talking of paths ahead, the men's handball team have a potentially slippery one at the next Euros, while 'Danish' side Brentford have it all to do in the English Championship playoffs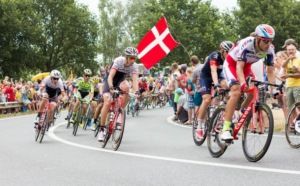 The postponed Tour de France will begin with a Tour de Denmark in 2022. With a year to go before the flag drops on the first stage, representatives from Amaury Sport Organisation are in Denmark to inspect the five start and finish cities.
Riders will pedal through Copenhagen, Roskilde, Nyborg, Vejle and Sønderborg from July 1-3.
"When the Tour de France starts next year in Copenhagen, it will be one of the biggest sporting and media events that we've ever had in the country. It requires precise planning. We look forward to a fantastic cycling and folk festival across the country," said Alex Pedersen, the head of Grand Départ Copenhagen.
New parks and centres for the five cities
Stéphane Boury and Yannick Goasduff, who are responsible for the finish and start areas, began their tour of Denmark on Monday.
Amongst other things, there are plans to build a fan park and media centre in each of the five cities.
The Tour de France start was supposed to be held in 2021, but due to the pandemic the 2020 European Championship was moved to 2021. To avoid a clash of major events in Copenhagen, the Tour de France was also postponed by a year.
---
Restrictions complicate the Euro Championship countdown
The European Championship kicks off in a month, but plans for big-screen events and fan zones are plagued by uncertainty thanks to the corona restrictions. "We hope the 'Football Village' at Ofelia Beach and big screen events at Rådhuspladsen and Øksnehallen can go ahead, even if it is at a reduced capacity," said Copenhagen Lord Mayor Lars Weiss. As a morsel of relative normalcy, the Euro 2020 trophy is visiting City Hall as part of its tour of the 11 host cities. Denmark will play their first match of the Euros against Finland on June 12 and the DBU is taking no chances with coronavirus: national players will have no contact with family or friends during the tournament.
World's largest padel tour coming to Denmark
Denmark will host its first ever World Padel Tour tournament in the spring of 2022. Organised by The Padel Club and PadelPadel, the Danish Padel Open will introduce many people to a doubles racquet sport that is played with a large 'bat' and tennis-like ball. It's big in Spain, Argentina, Mexico and Portugal – so expect a heavy presence from those nations. No Dane is good enough to qualify, but some of the country's padel players will have a chance to qualify through a 'wildcard' system designed to diversify the competition.
Danish basketball star wows in Russian league as he aims for NBA
Danish player Gabriel 'Iffe' Lundberg has been named 'Newcomer of the Year' in the VTB, the Russian basketball league, which is considered one of the best in Europe. The 26-year-old CSKA Moscow player started the season at Polish club Zielona Gora – which is also part of the VTB – where he played 18 games averaging 20.4 points, 5.4 assists and 3.8 rebounds. But the Dane already had his sights on a bigger team and moved to CSKA Moscow mid-season. Speaking to TV2, Lundberg said he "felt very, very close" to the NBA, in which no Danish players have ever competed. Lundberg will join the NBA Summer League this year in the hope of being spotted for a US contract.
Denmark beats Sweden at ice hockey for the first time in its history
Denmark beat Sweden 3-2 in a World Championship warm-up match on Thursday – their first ever victory over the Swedes. The two national ice hockey teams have faced each other 21 times, including 11 World Championship finals matches, and Sweden have dominated every showdown so far. The Danish team triumphantly confirmed they had "broken the curse" on their Facebook page. However, Sweden is a proud ice hockey nation and will no doubt bring the big guns when the two teams meet again on May 22 at the IIHF World Championship in Latvia.
Danish athletes to be vaccinated before Tokyo Olympics, minister confirms
Denmark's Olympic and Paralympic athletes and staff will receive vaccines donated by Pfizer-BioNTech via the International Olympic Committee. "It's gratifying that we get specially dedicated vaccines from Pfizer-BioNTech for the Danish Olympic athletes. This guarantees our athletes a vaccine without affecting the Danish vaccination program," the minister of health, Magnus Heunicke told TV2. The Olympic Games will run from July 23 to 8 August 8, and the Paralympic Games from August 24 to September 5.
Lucky European Championship draw for Denmark, but will it hold?
Despite being the reigning Olympic and world champions, Denmark was only a second-tier seed in Thursday's draw for the 2022 Men's European Handball Championships. The Danes will play Slovenia, Northern Macedonia and Montenegro, with the best two going through. With cautious optimism, experts agree the group could have been much worse. "I think us and Slovenia are favourites to move on. But looking ahead we could have an insanely hard half of the draw. We could meet Hungary at home, plus France and Croatia," said national coach Nikolaj Jacobsen. So Thursday's good draw may not prove as auspicious as it seems.
Danish NHL player hits career milestone
Danish ice hockey star Oliver Bjorkstrand has hit a milestone of 300 matches in the American NHL for his team, the Colombus Blue Jackets. Bjorkstrand scored twice and had one assist in the 4-2 victory over the Nashville Predators.
"Now I am eyeing game number 500 and the big dream is to reach 1,000 games in the NHL. Not many players succeed. It could be great if it was possible," he said. The Dane is sitting pretty as the club's top scorer with 42 points. He has both scored the most goals and made the most assists this season.
Christensen tipped to become 15th Dane to play in Champions League final
The last Dane on the field in a Champions League final was Christian Eriksen in 2019, and Andreas Christensen may be the next if the Chelsea player is selected to face Manchester City on May 29. Christensen is tipped to play after helping the Blues to see off Real Madrid in last Wednesday's semi-final victory. Meanwhile, staying in England, Leicester City keeper Kasper Schmeichel was the man of the match as his side beat Chelsea 1-0 to win the FA Cup last Saturday.
Pernille Harder misses out on Champions League medal again
It was third time unlucky for Pernille Harder as she lost her third Champions League final. Her previous two defeats came as a Wolfsburg player, but this time it was with her new club Chelsea courtesy of a 0-4 thrashing by Barcelona. A week earlier it had all been smiles after the Blues won the Women's Super League – their second title this season – making it the fifth consecutive time she has won a double. Harder won both the German championship and cup in all four seasons she played for Wolfsburg.
Asgreen wins single start in Volta ao Algarve
Kasper Asgreen continues to impress this season, moving up to third place after victory on the fourth stage of the Volta ao Algarve road race in Portugal. The Danish rider won the 20.3 km time-trial on Saturday in 23 minutes and 52 seconds, nudging Rafael Reis into second place by three seconds. Earlier this year Asgreen won the Saxo Bank Classic,and then out-sprinted the competition in the 254km Tour of Flanders – claiming Denmark's second ever win.
Superliga: Lyngby relegated while rivals Vejle stay up
Lyngby's surprise 3-4 loss at home to relegated Horsens has cemented their downfall from the Superliga. With three rounds left, Horsens and Lyngby are already relegated. Meanwhile, Lyngby's rivals Vejle Boldklub secured their survival with a 4-2 win over SønderjyskE.
Danish curlers score a ticket to the Olympics
The Danish women's curling team beat Scotland on Friday, seeing them through to the medal games at the World Cup and earning them qualification for the upcoming Olympics.
Brentford in with a chance at the Premiership
Danish-owned English club Brentford, which finished in third place in the Championship, lost their first leg 0-1 at home against Bournemouth last night, leaving them with a hill to climb in the return fixture on Saturday to keep their dream of Premier League football alive. A four-win streak leading up to the playoffs counted for nothing for a Brentford side aiming to reach the top tier for the first time since 1947. Last year, they made it to the playoffs final, only to lose to Fulham.