News
From toddlers to teens: thriving through theatrical teamwork
---
This article is more than 2 years old.
Beyond the stage: exploring the reasons why Copenhagen International School employs professional drama teachers to teach children from the age of three through to the International Baccalaureate high school diploma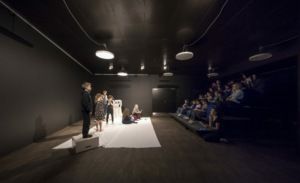 Contrary to common belief, drama is not about 'me, me, me'. Drama is an opportunity to step out of yourself and really work together with others. It's about possibilities, collaboration and confidence. That's why Copenhagen International School offers drama to kids from the tender age of three through to the end of high school.
"Drama provides the opportunity for very young children to practise for life as a 'grown up'," according to Sabrina Mannhartz, the principal of Early Years and Primary School.
"Three and four-years-olds do this automatically. It's what they do when they play, and drama provides some structure to stretch their thinking."
Learning through drama
In Early Years and Primary School drama classes, children learn to listen, create, collaborate and reflect. The activities and drama games they engage in contribute to building focus and respect – everyone has a voice and the skills they learn go with them to all their other classes, according to Lizzy McIlroy, who teaches drama to Primary School children at Copenhagen International School.
"Give young children the opportunity to experience learning through drama, and they will work together to explore concepts and create understanding," contends McIlroy.
"Take a science topic like 'the body systems'. Students show their learning by creating a drama piece that represents how a system works – for example, the digestive system. Two students work together to create a mouth, while others, representing the food, crawl through and are pushed between a line of students as if travelling down the oesophagus to the intestines before creating organised chaos to represent the digestion in the stomach."
Such an approach encourages teamwork, contends McIlroy: "Students have to organise themselves to decide their positioning and movement to tell the story. This physical approach can be a powerful tool for learning and can be applied to pretty much anything. That's the beauty of drama."
Clowning for confidence
One of the most satisfying moments teaching drama is when a student, who is generally quiet as a mouse in the regular homeroom setting, connects with a drama activity and shines with unexpected confidence.
"Learning without words can really help children to come out of their shells, so I invited a professional clown," revealed McIlroy
"The most remarkable part was watching children who are usually more quiet and introverted develop confident cheeky personalities through mime once they put on a red nose. The take-home of the experience was resoundingly: 'I can have a voice through my inner clown'."
In another unit with the older primary children, drama took a lead role in tackling the sensitive topic of puberty. Students created their own very simple oversized puppet and operated it to deliver a monologue they had written that addressed an element of puberty they had learned about during their unit of inquiry.
"With the puppet to 'hide' behind, the children felt comfortable and confident to present their work. Drama offers a safe environment for students to work in and to explore ideas in all sorts of ways. It gives them a superpower," contended McIlroy.
"Drama is not about the end product, although that can be amazing. It is all about the process – and the skills and knowledge acquired."
Learning to let go
By the time the children reach Middle School, they are in touch with their inner self – the perfect time, contends teacher Lena Noring, to teach them techniques to harness their focus.
"Each class begins with a guided meditation in which students gain tools to focus on the present moment and learn to manage stress and deal with the change of emotions. It fosters students' awareness of themselves and their ability to grow as performers and humans – in and outside of drama class," she revealed.
"First the meditation develops their focus and self-awareness, and this is followed by warm-up exercises that use both body and voice to stimulate creativity and imagination."
Students respond positively to the meditation – it is clearly the nozzle through which the steam can be released.
"We achieve a peace of mind and body, whilst releasing thoughts or feelings that might have bottled up. It makes you more aware of yourself and your surroundings," remarked a Grade 7 student taught by Noring. "It makes you and your body calm," added a classmate.
"You can let go of your mind and it really helps me to focus on the things I need to. Today when I started the class I was tired and I had a lot going on in my mind. After the relaxation I was way more relaxed and I could now focus on my task!" enthused a Grade 6 pupil.
The knock-on effect of the relaxation is that the students become more open to change, building ensembles and fostering creative freedom, and in the unit 'Trust and Improvisation' they end up surprising themselves, and others, with their ability to create.
Again, just like with the Primary School classes, the skills they learn through improvisation, like thinking on the spot, listening and responding to other people's ideas, quickly permeate other classrooms.
Finding your voice
By the time the students reach High School teacher David Chapman, they have come full circle. They have discovered creativity they didn't know was there, learned to collaborate, improvise and even meditate, and honed many skills. Now the students can be trusted to embrace their individuality.
"It's all about finding your voice: what do you have to say? How can you say it and how can you get others to understand it?" said Chapman.
"As teachers we can introduce them to different tools to craft their message. Whether it be through acting, singing or dancing, it's all about finding ways of getting the world to see the way you do things."
Again the environment is crucial. "We encourage the children to make mistakes and to try things and let things blow up – and that's fine because that's the number one place where the learning happens," he said. "They can make new discoveries that take them down different paths."
The visual arts, theatre and music program stands out from others, contends Chapman, as it really challenges the children to "throw ideas out and truly show what they can do".
An enviable environment
It is also at High School that the children get the opportunity to don many more hats. For example, they might choose to get involved backstage. Certainly, the superb facilities of the visual arts, theatre and music departments at Copenhagen International School are a breeding ground for multi-talented creatives who can act, direct and even make their own special effects!
"Specifically in the theatre class, we have 'Small Blackbox', which enables the kids to experiment, not just with performance, but with the technical side," enthused Chapman.
"This means they get to explore lights and sounds to create new worlds – basic design stuff – as part of the mastering laboratory. And let's not forget the 300-seat auditorium with its huge lighting and sound potential. So they have those two different areas, where we go back and forth and explore – both in classroom settings as well as after-school performances."
It is an enviable environment. The school's 900 students come from all over the world, which gives them an undeniable leg-up when it comes to having a global perspective.