News
More Danes see racism as a widespread problem
---
This article is more than 2 years old.
Recent recorded instances of racism that have gone viral may have helped swing the pendulum, contends expert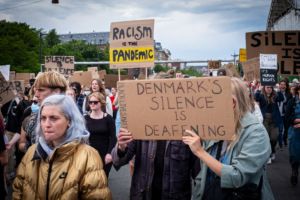 In light of the viral video in which a family with immigrant background was harassed by a racist man in Kastrup, a new survey has revealed that racism is seen as a widespread issue in Denmark.
A recent Megaphone survey for Politiken and TV2 showed that 42 percent of Danes fully or partially agree that racism is a growing problem.
Peter Thisted Dinesen, a political science professor at the University of Copenhagen, said that the incident that went viral may have influenced how Danes view racism.
"It is a very visible episode, which gives it a more tangible character. So I think people have become more aware of the problem," he told TV2.
A progress from last year's survey
This year's poll is in fact a contrast to what the same poll concluded last year.
In the wake of Black Lives Matter movement, 51 percent of respondents completely or largely disagreed that racism was widespread in Denmark.
Mira Skadegård, a postdoc at Aalborg University, contends that recognising racial discrimination problem is a huge step, but the work has just begun.
"Now the tough work begins. We have to seek more knowledge about it and then we can look at what we can actually do about it," she said.
The work has just yet begun
Even though the survey reveals progressive figures, real life incidents may show the opposite.
Recently, a racially-motivated attack was reported in Aarhus. The attacker punched and shouted racial slurs against a worker at a COVID-19 testing centre.
Furthermore, the Danish government itself has a reputation for passing harsh immigration policy.
Parliament recently passed a law that allows refugees to be processed abroad – a move that has sparked public outcry and international condemnation from the United Nations and the European Union.