News
National Round-Up: Danish government launches new cybersecurity initiatives 
---
This article is more than 2 years old.
Elsewhere, pant-free cans at border shops on the chopping board and big bridge development sees significant delays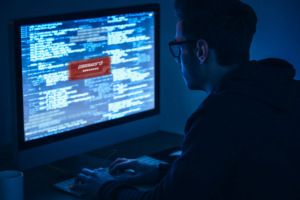 The government is ready to unveil new cybersecurity initiatives to prevent hackers from exploiting Danish authorities and companies.
Among other things, the government plans to create a cyber home guard. It will be formed as a unit that organises volunteers with competencies in IT security. 
Just last year, it is estimated that cybercrime cost businesses nearly 1 trillion US dollars worldwide.
READ ALSO: Danes more worried about cyber attacks than global climate change
A tidy sum
In Denmark, one third of big Danish corporations have experienced security breaches.
This is also supported by the fact that half of all Danes have experienced phishing, and misuse of card information.
Implementation of the government's strategy will be quite costly – around 500 million kroner will be taken from the existing defence budget to foot the bill.
---
Top diplomats under investigation
Denmark's current UN ambassador to New York, Martin Bille Hermann, has been questioned once again about his involvement in the police crackdown on protesters in support of Tibet during a Chinese delegation visit to Denmark in 2012 and 2013. Several Foreign Ministry officers are also under investigation. On June 17, the last witnesses will be questioned. Later, The Tibet Commission is expected to submit its report on the issue before the end of the year.
Lars Løkke names new party
Former PM and Venstre boss Lars Løkke Rasmussen has revealed the name of his new party: Moderaterne. The party will not run in the local elections in November and will only become official afterwards. Should Rasmussen want Moderaterne on the ballot paper for the next Parliamentary Elections in 2023, he must have collected at least 20,100 voter declarations.
No more pant-free cans in border shops
The European Commission must reconsider its decision on can deposits of German beverages, after losing a case from the Danish Chamber of Commerce and Danish Society for Nature Conservation. Currently, it is possible for German border shops to sell deposit-free cans to Danes. "It creates an unequal advantage for the German border shops and a huge environmental dilemma. It is mandatory for all German stores to charge a mortgage on cans – and that law applies throughout Germany." said Lotte Engbæk Larsen of the Danish Chamber of Commerce.
The government approves summer packages
The government, Venstre, Dansk Folkeparti, Socialistisk Folkeparti, Radikale, Enhedslisten, Konservative and Alternative have all agreed on the implementation of a summer and business package worth 1.65 billion kroner. The package aims to help tourism and leisure businesses make it through a summer without income from foreign tourists. 
Storstrømsbro Bridge to be delayed
The construction of the new Storstrømsbro Bridge will be delayed by three years. Road directorate, Vejdirektoratet, expressed disappointment that the Italian contractor in charge of the construction, SBJV, wouldn't keep the timeline. The bridge was supposed to open for cars in 2022 and for railways in 2023. However, due to the delays, the bridge will probably only open for cars in 2024 and for railways in 2026.