News
Swedes respond to Danish urgency to address stone-throwing incidents on the way to Bornholm
---
This article is more than 2 years old.
Danish attorney general gets involved after 50 cars are struck between Malmö and Ystad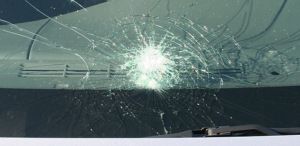 The Swedish police have yet to find a motive behind the number of stones being thrown at cars with Danish number-plates of late.
Since the end of April, more than 50 Danes have reported cases of stones being thrown at their cars on the stretch of road leading from Ystad, the Swedish port Danes need to use to travel to Bornholm, to Malmö, their point of entry to Sweden.
The latest case happened on Wednesday evening – the fourth incident that day alone.
Great seriousness
The Danish attorney general, Nick Hækkerup, confirms that he is looking at the cases with great seriousness, and that he plans to get involved with Swedish authorities.
"I'm alarmed by the reports of Danish drivers being subjected to systematic stone throws in Sweden. Throwing stones against moving vehicles is insane and life-threatening behaviour, and it is deeply worrying that such a large number of Danish drivers have been hit," Nick Hækkerup told DR.
"Therefore, I will now contact the Swedish attorney general. I expect that Swedish police are taking the incidents seriously and are investigating thoroughly, so we can hold the assailants accountable and stop their lethal actions."
Swedish police initiate all available resources
According to Swedish police, all available resources have been assigned to the situation. The police have, among other measures, added more patrol cars and a helicopter to the stretch of road.
Most of the incidents have happened on the E65 motorway, the favoured road for travelling between Malmö and Ystad.
All Danish drivers are urged to pull over and contact the authorities immediately if they experience a stone being thrown.