Things to do
Performance review: Blistering LGBTQ+ coming-of-age drama takes no prisoners
---
This article is more than 2 years old.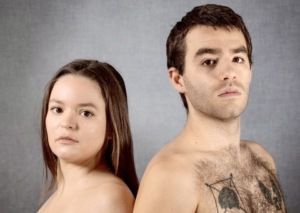 As part of HIT Copenhagen's season focusing on new LGBTQ+ stories, Copenhagen's Bøssehuset hosted the world premiere of the much-anticipated 'Southern Bedfellows', a new play by Riley McCarthy.
The production is an intimate, full-frontal depiction of two non-binary lovers and the evolution of their relationship from childhood through to the eventual deconstruction of their marriage.
A vanguard production
The blistering portrayal of gender, sexuality and self-realisation is helmed by two vanguard figures of socially-conscious theatre.
First, American non-binary playwright McCarthy, whose thematic trademark is the exploration of frustrations within the LGBTQ+ community with the limits of its own discourse.
Second, Reumart-winning director Christoffer Berdal – one of the most significant names of the Danish stage. He is particularly well known for 'Who Are We?' – a chronicle of young Palestinian and Iraqi refugees trapped in a Jordanian camp – in which he cast actual refugees as actors.
'Southern Bedfellows' is a monologue-riddled character study featuring just two performers – a heavy mantle but one borne admirably. Jo Ellen is played by Massachusetts-trained Annelise Nielsen, whose commanding stage presence lends powerful momentum to the story.
Jody Fish – who last year garnered five-star reviews for his solo performance in the critically-acclaimed one-man play 'Harry Clarke' – plays Haywood. 'Southern Bedfellows' allows him to flex his deft hand for inhabiting complex characters: he draws us into Haywood's troubling spiral with remarkable emotional range.
Sparsely staged
In the absence of other characters, the narrative perspective oscillates between asphyxiating tunnel vision and the sense of expanse that is unique to private, shared realities.
When Haywood and Jo Ellen speak to those without a physical presence on the stage – mothers, fathers, friends, teachers – it's a one-sided dialogue with pauses for the imagined responses. The result is a disturbance of the observational role of the audience. We are inside Haywood and Jo Ellen's heads furnishing the outside world with imperfect assumptions.
Missing information, pauses, misunderstandings: McCarthy leverages gaps to build tension and to explore the social voids between communities and individuals.
"I tend to write about odd people in odd situations," they say. Certainly, a performative audience is more likely to relate to the characters on stage. Empathy within and towards the LGBTQ+ community is a central tenet of the play.
"What tears the community apart and what conversely brings it together? What happens when subdivisions fight within themselves and how do we solve internal micro-aggressions towards each other?" asks McCarthy.
Gender through the prism of language
Beyond Haywood and Jo Ellen's physical isolation, the thorny nature of communicating the non-binary experience is illustrated by careful language-play. As we follow the pair from ages five to 21, we are exposed alternately to the language of children, teenagers and adults.
A chasm exists between bland, safe, genderless labels such as 'spouse' and 'bedfellows' and the charged, emotive use of gendered slang.
Explosive moments like Haywood's climactic teenage rant in which the chilling screamed expletive "fucking faggot" hangs in silence contrast with giggling childhood interchanges of the words 'he' and 'she'.
Tension around Haywood's reluctance to use Jo Ellen's they/them pronouns in adulthood simmers throughout the second half of the performance. What starts as innocent fun quickly escalates into a photorealistic critique of society's anti-LGBTQ+ discourse.
McCarthy's manifesto
"Gender is a spectrum and the definition of gender is ever-changing and fluid. As such, I'm interested in what makes a man and what makes a woman, I'm interested in what makes everything in-between and exists outside the boxes we put ourselves in, and I'm very interested in how we as a society define these outliers and why we cannot seem to settle on gender beyond a binary," explains Mccarthy.
Ultimately, Jo Ellen and Haywood's shared trajectories diverge. It's an inevitable arc in a narrative whose crux is the diversity within non-binary experience.
In the end, somewhat wearied by the trauma of it all, we return to a childhood conversation about fairies, knights in shining armour and flying. Jo Ellen and Haywood are five years old, trying to make sense of reality using unsuitable, unfitting tropes and square-peg-in-a-round-hole language.
It's slightly heavy-handed commentary but the underlying frustration is too honest to condemn: 'Southern Bedfellows' has the integrity and raw passion of a resistance movement.
A very human struggle
"For me, what is beautiful about this play and central to all this is the question of – what is it to be human? To be loved and be able to love yourself and be free, whatever you are. And I mean, this question is bigger than gender and sexuality and everything," reflects Berdal.
Southern Bedfellows is about being non-binary … but it's also about a broader battle for self-realisation.
Berdal concludes: "Whoever you are, whoever sees this play, you will recognize something in this struggle about asking: who am I? What kind of life would I actually like to live?"