News
Corona Round-Up: Danish doctors call to axe Johnson & Johnson jab after rare side-effect
---
This article is more than 2 years old.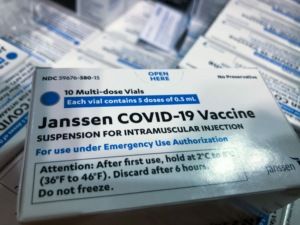 The Danish Medical Association has called for Parliament to terminate the optional Johnson & Johnson vaccination scheme following a possible case of a rare but serious side-effect.
VITT – Vaccine-induced Thrombotic Thrombocytopenia – causes a combination of blood clots, bleeding and a low platelet count. The same side-effect caused the Danish Health and Medicines Authority to remove AstraZeneca and Johnson & Johnson from the official vaccination program in the spring.
"Probable connection"
Since the vaccines were introduced, the Danish Medicines Agency has received four reports of VITT, two of which were fatal.
Three cases were reported after AstraZeneca vaccinations, while the fourth was observed in a person who opted for the Johnson & Johnson vaccine.
The Danish Medicines Agency has therefore announced a "probable connection" between the unusual disease and the vaccine.
Experts call for J&J termination
"There's no need to put more people's lives and mobility at stake. Very soon we will have enough other doses to offer people a better and much safer vaccine," Anders Beich, the chair of the Danish Society for General Medicine, told Jyllands-Posten.
The head of the Danish patients association, Morten Freil, agreed: "We believe that the decision should be reconsidered – also in light of the many additional BioNTech/Pfizer vaccines that we have received from Romania."
Political pushback
However, according to Jyllands-Posten neither Dansk Folkeparti, Konservative nor Radikale support changing the current system.
Rather, they believe the optional scheme will phase out naturally now that all over-16s have been offered jabs from Pfizer/BioNTech and Moderna under the general vaccination program.
According to Statens Serum Institut's latest figures, 46,323 people have been vaccinated with the one-shot vaccine from Johnson & Johnson (pretty much unchanged for a month, though), while 1,317 people have had the two-shot AstraZeneca vaccine.
---
Low infection rate at Euro games inspires confidence in large gatherings
Figures from the Danish Agency for Patient Safety show that a total of 152 people were infected with coronavirus at European Championship matches held at Copenhagen's Parken stadium. Big screen and private events are not included in the numbers. The Denmark-Finland match saw eight infected, while there were 41 at the match against Belgium and 62 at the Russia game. The match between Croatia and Spain, also held at Parken, saw 41 cases.
1,233 people have caught corona despite being fully vaccinated
Out of 1,623,234 people who have been fully vaccinated, a total of 1,233 Danes have subsequently been infected with coronavirus. That translates as 0.08 percent, according to figures from Statens Serum Institut. Professor Troels Lillebæk from SSI is pleased: "It is a very small number, and it shows how effective the vaccines are." Typically, corona cases among the fully vaccinated are mild. Professor Camilla Foged, a specialist in vaccine design at the University of Copenhagen, agreed: "You will always expect some to get sick. These numbers are really nice." As case numbers are predicted to rise due to the Delta variant, the SSI advises continued caution between first and second jabs.
Pediatricians voice uncertainty about coronavirus vaccine for children:
As of today, 12 to 15-year-olds will receive their invitations. But a dispute erupted when the chair of the Danish pediatricians association, Klaus Birkelund Johansen, criticised the decision in a press conference. The opposition from the pediatricians comes from a lack of data and from the reasoning that 12 to 15-year-olds are not at risk of developing a serious course of COVID-19. Therefore, a youth vaccination program is less about the safety of children and more about societal immunity.
Runaway Delta variant now accounts for 78.7 percent of infections
In early June, the Delta variant accounted for less than 1 percent of corona cases. But in the last 24 hours, SSI has registered 1,202 new infections – the highest figure since May – of which 78.7 percent were the more contagious Delta variant. However, only a third of the samples from the past week have been analysed, so it is an estimate. Henrik Ullum, the head of the SSI, told TV2 that it is largely 20 to 29-year olds who are carrying the infection.