News
Danish News Round-Up: UEFA chief referee puts semi-final penalty controversy to bed
---
This article is more than 2 years old.
In other news, as sunbathers come out in droves and infection numbers creep upwards, experts argue the corona pass should only be made valid after the second vaccination.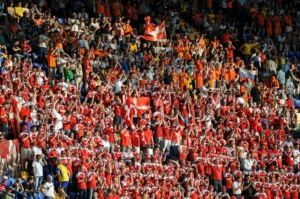 UEFA chief referee Roberto Rosetti has defended Dutch official Danny Makkelie's decision to award a controversial and decisive penalty to England during the European Championship semi-final between Denmark and England.
By now, England's Raheem Sterling's brush with Joakim Mæhle in the Danish penalty area has been scrutinised and critiqued from all angles. A petition for a rematch was even circulated, garnering 36,000 signatures.
Stormy aftermath
Danish national coach Kasper Hjulmand voiced his dissatisfaction with the penalty decision at the post-match press conference, stating "the penalty kick itself I simply cannot see."
Swedish former referee Jonas Eriksson, an expert at SVT, was similarly critical, pointing out that VAR should have intervened.
"This is a cheap penalty kick for me. Most of all I'm surprised that VAR didn't say that to the referee," he told Sportbladet.
VAR protocol
The semi-final's VAR referee Pol van Boekel chimed in apologetically: "From one camera angle I could see that there was contact between defender and attacker… but I think it was harshly judged."
"It wasn't a clear mistake by Makkelie, but I have to support the referee in the situation. It's global VAR protocol," he told the Dutch daily Algemeen Dagblad.
Unmoved by the masses
But Rosetti was resolute, supporting Makkelie despite the maelstrom of reproach. "Danny Makkelie saw the contact between Joakim Mæhle's right leg and Raheem Sterling's right leg and VAR confirmed the situation."
"We can of course discuss the intensity of the contact, but we always want the referee to be at the centreof the decision-making process. In this situation, there was a clear foul by the defender. A clear impact: knee to knee," he said in a statement to The Guardian.
The UEFA chief referee may have brought down the gavel but frustrated Danish fans were at least able to glean some schadenfreude from England's subsequent  final loss to Italy … after extra time and penalties.
---
Danish financier impulse-buys an island
Danish financier Per Wimmer has bought the island of Masnedø Kalv, located off the coast of South Zealand in Storstrømmen, after spotting a helicopter approaching the privately-owned Egholm peninsula and wondering whether other Danish islands may be for sale. "It set my thoughts in motion," he said. "I have visited Richard Branson on his island, Necker Island, in the Caribbean. There are many benefits to having an island. You can be alone and relax, and you can enjoy the water," he told TV2. The London-based financier has resolved not to use the island for anything "professional".
Thousands of chickens killed in truck accident on highway
The gruelling clean-up work after an accident involving a truck containing 8000 chickens on Sunday evening has been completed after several hours of road closure. The truck overturned on the Holstebro motorway at the exit towards Skive on Sunday evening, killing more than three quarters of the birds. The reward for the surviving chickens was a lift to the slaughterhouse, according to a spokesperson for the Central and West Jutland Police.
Train collision at Copenhagen Airport
No injuries have been reported in connection with a collision between two trains at Copenhagen Airport in a tunnel on Kystvejen on Sunday. "The collision happened during shunting, while the trains were on their way to Copenhagen Airport with no passengers aboard," said Karin Borberg, a press officer at DSB. InterCity trains were unable to service the airport as a result, and trains from Malmö to Copenhagen Central Station were also disrupted. However, regional trains – like the Øresund line from Central Station – are still running and the Metro to the airport is also unaffected.
Vingegaard's Tour de France success fuels Danish 2022 Tour fever
Cyclist Jonas Vingegaard's triumphant second-placed finish in the Tour de France is stirring up anticipation for next year's contest, when Denmark will host three stages. "It has been a fantastic gift for this project that Jonas and the Danish riders in general are doing so well," said the head of the Danish Tour de France, Alex Pedersen. "It will help to make the focus on the Grand Depart in Copenhagen even greater. It's perfect timing. That script could not have been written better," he said. The three Danish Tour de France stages will run from 1 to 3 July 2022.
Python on the loose in Aarhus
A one-metre python has been on the loose since Saturday after escaping from a terrarium in Risskov in Aarhus. The snake's owner had placed the terrarium on the terrace, according to East Jutland Police. Residents who spot the brown and black constrictor python have been assured that it does not bite "under normal circumstances" and are advised to report any sightings to the East Jutland Police by calling 114.
Experts want the coronapas to be valid only after second shot
Mounting evidence points to two vaccine shots being necessary to protect against the delta variant. Currently, the coronapas is activated after the first shot – but experts are rallying to change that date to 14 days after the second shot. "My recommendation would be that the corona passport is valid only after the second shot," said Professor Jørgen Eskild Petersen of Aarhus University. "The delta variant is a new challenge. It's dangerous for single-vaccination Danes to go out and consider themselves protected," agreed Professor Allan Randrup Thomsen at the University of Copenhagen.
Next week's summer holiday weather
The recent summer weather trend of tropical sun and few showers is set to continue. A high-pressure front will pass over Denmark in the coming week, bringing dry weather, a good chance of sun, and temperatures peaking at around 23 to 25 degrees. The water temperature in top bathing spots, measured by volunteers from all over the country, has climbed to an impressive average of 22.6 degrees – just 0.7 degrees below the record: 23.3 degrees on 10 August 1997. At Islands Brygge in Copenhagen the water temperature was 26 degrees on Saturday – the same as the air temperature.