News
Was working from home possible for diplomats? Not really is the consensus
---
This article is more than 2 years old.
Diplomacy changed during corona, as long Zoom meetings became the norm, but it quickly became clear that 'high-level' discussions will always need to take place face-to-face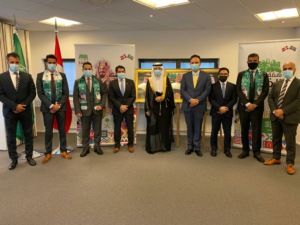 Who led the digital transformation of your company? 
Well, over the past year, the only correct answer to this question has been COVID-19, according to Dr Katharina Höne, a research associate at DiploFoundation. 
She made the claim in a recent webinar on corona and diplomacy run by the Danish non-profit student organisation International Debat, where she added:  "And COVID-19 also forced diplomatic organisations to respond."
Simulating the old face
Full conference rooms transitioned into pixelated computer screens, with everyone sitting in their own office. The phrase "Can you hear me?" became the most common greeting. 
But while it's hard to dispute that diplomacy got a new face over the past year, the picture is still a familiar one, according to Professor Rebecca Adler-Nissen, a speaker at the International Debat webinar. 
Adler-Nissen is researching the 'new normal' seen among EU diplomats during the pandemic for a project called 'DIPLOFACE'. 
In her presentation at the webinar, she included a picture of Danish PM Mette Fredriksen attending an EU meeting online.
"They simulate the atmosphere of an in-person meeting," she pointed out.
"Think about how she is still dressed formally, and how everything is strategically placed, like the flag of Denmark, but also a name tag on the desk – even though online your name is visible on the computer screen. All the details online are almost exactly the same."
Protocol still important
This demonstrates how protocol is extremely important in the interactions of diplomats, according to Höne.
"Some elements of protocol translate easily online, others not so much," she said. 
But you shouldn't be naive about it, she contends, adding: "Online this protocol is still relevant because diplomacy is defined by rules of procedure, but they have to be updated or creatively interpreted."
Adler-Nissen also suggests that behaving online like it's the same as an in-person meeting could also be a coping mechanism. 
"They converse and act like how everything always was, but on the other hand suggest that we might move into a new normal with new procedures and new performances of diplomacy," she suggested.
Knowing how to raise your hand to ask a question, for example, could have consequences, adds Höne. Who is allowed to talk when? What happens when technical problems occur and the security is not optimal? 
Endless Zoom meetings!
A diplomat's life has started to consist of endless Zoom marathons – lots of them.
"We have had many more Zoom meetings – it has been crazy!" Santiago Wins, the Stockholm-based Uruguayan ambassador to Sweden, Denmark and Norway, told Diplomacy magazine in late 2020.
"The biggest impact I've seen is the shift from traditional, formal roles to less structured ones because all these new ways of communicating make everything faster and spontaneous."
But these Zoom meetings were only possible to work, because of an important factor.  
"The reason we have been able to work during this period in a more or less normal way, is because there were already some established personal contacts," ventured Wins.
"I believe nothing can replace this – especially in small countries like Uruguay and Denmark. It is far more difficult to establish a new contact via phone or the internet. So all these Zoom marathons we've been having is thanks to the previous contacts we made." 
Bearable in Denmark!
Former US ambassador Carla Sands also missed the person-to-person physical contact normally seen in diplomatic circles.
"Sitting around a table or at a reception and being able to talk to people face-to-face: I'm really looking forward to that returning to normal," she told Diplomacy magazine late last year.
"We're learning to live and function as close to normal as possible in the midst of a global pandemic."
Still, Sands was grateful for being based in a country as digitally advanced as Denmark
"In an advanced country like Denmark, it is possible to continue almost as successfully as before the pandemic," Sands told Diplomacy magazine at the end of 2020.
"I think in many ways we are lucky to be working in a country like Denmark that is very digital. We can do our banking virtually, because that's how we do it in Denmark. And we've been able to transition to doing a lot of what we were doing face-to-face to doing it virtually."
No beating face-to-face
Face-to-face meetings are "the very glue that holds international relations together", contended Marcus Holmes from the Government Department of College of William & Mary in an often-cited paper on the subject in 2013. "It's the essence of diplomacy, otherwise, there is no trust in alliances."
This might explain why many deliberations weren't moved online. "Informal was online, but formal was still offline," said Höne. "After all, you can question whether an online meeting is an official meeting."
Certainly, Ambassador Wins did note work from home all the time. "We only worked remotely in March and April from the embassy (although we took turns as we needed to access documentation)," he revealed.
"You see that especially the ambassadors still meet – but follow the corona rules," said Adler-Nissen, who believes face-to-face meetings will always have an essential role to play in diplomacy.
"It could also give them a heroic feeling of the importance of their job: 'We are special – that's why we meet'."