News
Business Round-Up: Cashless future closer thanks to corona
---
This article is more than 2 years old.
Elsewhere, the outlook is looking rosy for the economy, the shipping sector and the country's banks, but not so much for Tivoli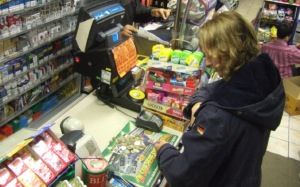 A Nationalbanken report reveals that cash accounted for 17 percent of all payments in supermarkets in mid-April 2020 – down from 28 percent pre-corona in early 2020.
Based on figures obtained from the country's biggest supermarket owners, Coop and Salling Group, the findings are corroborated by 7-Eleven, which also reports that fewer people used cash during the corona period.
Vendors are obliged to accept cash between 06:00 and 22:00, but if they are located in an area deemed vulnerable to robberies, a card-only policy is legal during midnight hours.
Cashless society advocates
Brian Mikkelsen, the head of Dansk Erhverv, would like to change the law, arguing that handling cash is a costly business and that it is to the advantage of criminals.
"It is completely Old Norse to have a law that says you must accept cash in stores," he told DR.
"The last 15-16 months have shown that you can live without cash. So one of the few good things about corona is that we will hopefully get over to the cashless society sooner." 
---
Danish economy returns to pre-corona crisis level
The Danish economy grew by 2.2 percent in the second quarter of 2021, taking it to a higher level than the one experienced in the fourth quarter of 2019, the last complete pre-corona period. The Q2 gradual reopening played a big role, and so did growth in the public sector. Employment grew by 1.9 percent. The average growth of the economies of the 27 EU states was 1.9 percent, while the US saw an increase of 1.6 percent.
Tivoli not recovering as quickly as others: large loss looming for 2021
Tivoli has reported a second quarter loss of 11.9 million kroner – a long way off matching its 2019 profit of 26.1 million. The loss is blamed on reduced visitors (500,000 in the first half of 2021, compared to around 1.5 million in the same period in 2019), the necessary closure of indoor areas such as restaurants and arcades in adherence with the corona restrictions, and a limited number of concerts and performances. Foreign guests tend to account for a third of all visitors to the park and they spend more on admittance. Tivoli anticipates a pre-tax loss of 75-100 million kroner for the whole year. Corona has so far cost the themepark a post-tax sum of 238 million kroner. 
Jeweller's results have a nice shine
Jewellery company Pandora has overseen a 37 percent increase in sales over the first half of 2021, thus yielding a turnover of 9.7 billion kroner and a profit of 1.6 billion. In the same period last year, it made a loss of 200 million kroner. Pandora closed 15 percent of its 2,600 stores during the second quarter of the year, but half have since reopened.
DFDS thriving like the rest of the shipping sector
Shipping company DFDS has announced a turnover of 4.2 billion kroner for the first six months of 2021 – up 51 percent on the same period last year. Its profits rose from 8 to 306 million. It attributed the success to the healthy freight market, where demand is outstripping supply. Transport companies such as Maersk and DSV have also been thriving of late.
Aarhus accused of investing in illegal territory service providers
Danwatch has accused Aarhus Municipality of investing in companies that service illegal Israeli settlements. For example, it owns corporate bonds in the French telecommunications company Altice, whose subsidiary Hot Telecommunications Systems provides cable TV and telephony to Israeli settlements in the West Bank and East Jerusalem. It likewise owns corporate bonds in online travel agency eDreams Odigeo, which through its subsidiary Opodo arranges accommodation and hotel stays in the settlements. In total, the bonds have a value of nearly 750,000 kroner.
Øresund Bridge traffic back to normal one way, but not the other
Danish leisure traffic has returned to normal over the Øresund Bridge, but the same is not true in the other direction. At the beginning of June, the volume was 70 percent down compared to the same month in 2019. Accordingly traffic volume is still down 26 percent on pre-corona levels. Bridge operator Øresundsbro Konsortiet reported an interim operating profit of 319 million for the first half of 2021 – 245 million lower than in 2019 and 43 million lower than last year. Many of the Danes who head north are on their way to Bornholm, and more Danes own summerhouses in Sweden than vice versa. Additionally, Swedes who are not fully vaccinated are still required to pay for a corona test when they arrive in Denmark.
Airport passenger numbers bouncing back
In July, 1.2 million passengers passed through Copenhagen Airport – more than twice as many as in June. The figure nearly matched the 1.4 million passengers who passed through during the first half of 2021. However, the July figure was only 40 percent of the same month in 2019. The most popular six destinations were Palma de Mallorca, Aalborg, Malaga, Paris, Amsterdam and Stockholm.
Arla cartons to become the tenth waste sorting category
A survey conducted by Epinion on behalf of Arla reveals that 70 percent of Danes support a new waste sorting category for the dairy producer's used milk and yoghurt cartons. The average family disposes of 165 of the cartons a year, but most end up in incinerators. Now Arla is marking the cartons with instructions to recycle them, and a new waste sorting category is being added to the nine currently available: glass, plastic, bio etc. Around 167 million cartons a year will be potentially sorted – 37,400 tonnes of cardboard.
Insurance firms under investigation for alleged gender discrimination
Bagmandspolitiet has confirmed it is investigating 14 of the country's largest insurance firms for discriminating against women. It is alleged that the firms routinely reject claims by pregnant women, or those who have just given birth, for reimbursement for bills paid to chiropractors who treated their back or stomach pain. The reason tends to be because the pain was caused by pregnancy and childbirth. "It was absurd. If my husband had approached me because he had a sore back from carrying our girls, he might get help. But I could not because I had been pregnant with them," one woman told DR. The companies under investigation are Alm Brand Forsikring, Codan, Danica Pension, European Travel Insurance, GF Forsikring, Gjensidige Forsikring, If Skadeforsikring, LB Forsikring, PFA Pension, Skandia Link, Topdanmark Liv, Topdanmark Forsikring, and Tryg og Velliv.
Student body: state supports business, but not country's future
Mike Gudbergsen, the front person for the DSF students' body, has said it is unfair that his members have not been compensated in the same manner as many regular workers due to the corona pandemic: an example of "generational theft", he contends. Students have been unable to work to support their studies, leading to many taking extra loans of 6,400 kroner a month between March 2020 and June 2021. In total, the government has lent 4 billion kroner, and it is believed that one out of every six students took advantage, accumulating 100,000 kroner of extra debt that will grow at a rate of 4 percent every year. "It is unfair that young people and students who have lost their source of income to cover their basic expenses are 'allowed' to borrow money instead of getting a helping hand that is not to be repaid," said Gudbergsen. "This is another example of what can be called a generational theft, where politicians make some decisions that redistribute money from young and disadvantaged in society, to some of those in society who do not have the same financial difficulties."
Banks are happy go lucky, but it won't last, analysts warn
Banks across Denmark have raised their profit expectations for 2021. However, analysts have warned that it is too early to celebrate the end of the corona pandemic, and that recent improved earnings are the result of temporary drivers – for example, a boost in trading fees due to favourable financial markets. Danske Bank, for example, has revised its profit forecast from 9-11 billion kroner to 12 billion. Nykredit Realkredit, Djurslands Bank, Nordfyns Bank, Jutlander Bank, Kreditbanken, Hvidbjerg Bank and Totalbanken have also lifted their 2021 expectations. In related news, Jyske Bank has reported a profit of 1.7 billion kroner for the first half of the year – up from 82 million in the same period last year. The bank has profited from cutting costs, fees on the issuance of loans and, yes, trading in securities.
Dixa confirms huge Series C funding round
Danish customer service solution Dixa, which these days operates more as a customer engagement platform, recently confirmed a Series C funding round totalling around 662 million kroner. General Atlantic led the round with participation from existing investors Notion Capital Project A and Seed Capital. Founded in 2015, Dixa has expanded globally. Today it has offices in London, New York, Berlin, Kiev, Tel Aviv and Melbourne, as well as Copenhagen.