News
Culture Round-Up: Denmark's only English-language science podcast is just like Roskilde '96
---
This article is more than 2 years old.
As long as it's not like the 2017 edition, where all the DJs were male, says Future Female Sounds, which has received a million kroner grant from the Tuborg Foundation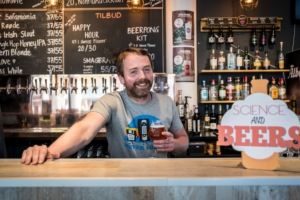 Danish research is something to be celebrated. However, not enough is known about it, claims Michael Magee, the Irish host of the Science and Beers (S&B) podcast who is a biologist who works as a science communicator at Ungdomshuset Odense.
While there are plenty of science podcasts produced in Denmark, only one is made in English, and that's a pity, contends Magee, as S&B is attracting a fairly large audience abroad, to the extent that "40 percent of our listeners live outside Denmark", he reveals.
No access to so many
"There are many scientific podcasts in Denmark, but many of the researchers in the country are not fluent in the language, so they cannot be part of the important communication platform," he continues.
"This also means that podcast listeners around the world have so far not had access to Danish research dissemination."
Brainiacs just like Bjork and Bowie
The podcast is the brainchild of the Danish Institute for Advanced Study (DIAS), where the researchers are among the most published in the country, if not the world.
"If DIAS was a concert, we are talking about Roskilde Festival '96 with Bjork, David Bowie, Patti Smith, Rage Against the Machine and Massive Attack," notes a S&B press release.
"While three of the researchers are in the top 1 percent of the most cited researchers in the world, DIAS is also home to young talented researchers."
Audience engagement
Each podcast begins with a 'Cheers' and then explores a subject in the company of an expert from the pool of DIAS researchers.
The guests are announced in advance so listeners can submit questions in advance of the recording.
Find the podcast via scienceandbeers.com/podcast or via Facebook @ScienceandBeers or @DanishIAS.
---
Divided by skin colour: the LGBTI+ group exclusive of most
Grabbing its fair share of media attention this past month has been Nørrebro Pride, a group also organising LGBTI+ activities this week, but not with the same inclusivity as Copenhagen 2021,. Heterosexual people are not welcome, neither are white people and woe betide any heterosexual white people with a hairstyle misappropriated from another culture. That was only the door policy for the opening party last Saturday. For the parade this Saturday, it's strictly QTIBIPOC (Queer, Trans, Intersex, Black, Indigenous and People of Colour) only, and the parade will be divided by skin colour. Reddit has been alive with commenters. "They have misunderstood something. Why should everyone else be so 'inclusive' when they then give people the finger based on skin colour and sexuality," asked one. "Feels strange that as an LGBT+ person I would not be able to attend a pride event due to my skin colour," wrote another. "Is it not illegal to exclude people because of their sexuality or skin colour," asked another. 
Friday pop: Tivoli's September line-up bursting with popular Danish acts
Most music fans tend to turn their noses up at Fredags Rock, the regular music event held by Tivoli every year from the spring to the autumn, but given the lack of recent options, maybe this September's line-up will be more popular than normal. Among the highlights are singer Jada, who will be performing at Plænen on September 3 at 22:00, rapper Tess (same location and time a week later) and Alphabeat (again the same, Sep 24). Stella Polaris, meanwhile, will assume DJ duties around the Pantomimeteatret area from 16:00-21:00 on September 10. All of the concerts are accessible with the standard Tivoli entry free.
Change the manifesto: controversial playwright to direct film about cakes
Controversial playwright and stage director Christian Lollike has confirmed he will make his first feature film. 'Kagefabrikken' (the cake factory) is an adaptation of a play he wrote in 2013 with Sigrid Johannesen and will star Nicolas Bro in the lead role: a depressed cake factory owner who falls in love with an Iraqi cleaning lady. It sounds tame compared to the normal standards of the artistic director of the Sort/Hvid theatre group. In 2012 he was accused of drawing attention to the writings of mass murderer Anders Breivik, which he used for the basis of his play 'Manifesto 2083', barely a year after the attacks that claimed the lives of 77 Norwegians. In 2016, Sort/Hvid contributed to an exhibition about martyrdom that included several the terrorists, including one who took part in the November 2015 Paris Attacks just five months earlier. And in 2018, Sort/Hvid was forced to change the name of a play after complaints it was racist. It was.
Close-ups with Esben again: Bille August announces next film project
Fresh from his success with the Karen Blixen film 'Pagten', which has received mostly favourable reviews (six stars from Ekko and BT, but only three from Politiken), director Bille August has confirmed his next project will be the historical drama 'Kysset' ('The Kiss'), which will see him reunite with 'Lykke-Per' star Esben Smed for another pre-World War I tale. Co-starring Clara Rosager, Lars Mikkelsen and David Dencik, the film portrays a love affair between a soldier and a paralysed noblewoman in 1913. August's biggest triumph was 'Pelle the Conqueror', which won the Oscar for Best Foreign Language film for 1988.
Blix-krieg on gender pay inequality in acting exposed
Politiken has been drawing attention to pay inequality in the acting profession. According to its research, men tend to get 35 percent more than their female counterparts. The newspaper referred to the recent example of Birthe Neumann, who revealed that she only got 300,000 kroner for playing Karen Blixen in Bille August's film Pagten. The take-home was that this was a small amount given the prestige of the role, and further research revealed that a male member of the actors' association could expect to earn 418,100 kroner a year in 2018, compared to 310,400 for women. Further analysis revealed that men get 57 percent of the main roles and 59 percent of the supporting parts.
Make room on the rostrum: the future's feminine
Future Female Sounds (FFS), an organisation that works tirelessly to support aspiring female DJs, has received a million kroner grant from the Tuborg Foundation. Founded by DJ Tia Korpe after she noticed the DJ line-up at the 2017 Roskilde Festival was entirely male, FFS mostly organises masterclasses, workshops and events for its members. It intends to use part of the funding to launch the country's first DJ academy for women and gender minorities, including non-binary and transgender people. It is free to join FFS, which has already helped to train over 400 female DJs as well as exert a global reach in the likes of north Africa and China.
Too much sex won't kill you: Denmark's answer to Kinsey dead at 98
Sten Hegeler, a sexologist, author and psychologist who some might say was Denmark's answer to Alfred Kinsey, has died at the age of 98. Like his American counterpart, Hegeler published his first seminal work in 1948: a sex education book for kindergarten children, which was met with both praise and book burnings! Among his 'absurd' views was that masturbation could not be the cause of insanity. A 1961 book more aimed at adults and co-authored with his wife Inge, 'Love ABZ', also caused various ripples, but they had subsided by the time pornography was legalised eight years later. Born in 1923, his father was a detective, but not a very good one, as in the 1940s it emerged his real father was the architect and social reformer Poul Henningsen (conceived in a haystack in Roskilde, apparently) and his grandmother the author and feminist Agnes Henningsen, a well-known provocateur with strong views on gender roles and sexuality. It explained everything.
New culture minister in place
The new minister for culture and church affairs is Ane Halsboe-Jørgensen, who has been replaced as the head of the Education and Research Ministry by Jesper Petersen. Halsboe-Jørgensen takes over from Joy Mogensen, who is leaving politics because she has run out of steam.