News
Culture Round-Up: Who needs Fehmarn when Move the North is bringing Denmark, Germany and Sweden this closer together?
---
This article is more than 2 years old.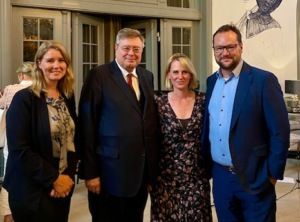 A great many dignitaries were present at a promotional event for the Move the North culture initiative, which brings together creatives from Denmark, Sweden and Germany, took over Nimb Restaurant at Tivoli yesterday. 
A magnet for talent and tourists
Rambøll chief executive Jens-Peter Saul, who is also the ambassador for Hamburg in Copenhagen, addressed those present, telling them how important it was for governments and the business community to back culture – even during difficult times like the pandemic. 
"Nothing brings people together better than culture. Churchill was famously asked to cut funding for the arts during the war," Saul said. "To which Churchill replied: 'Then what are fighting for?'" 
During 2019, Move the North presented 100 days of cultural activity, including 30 individual events in Hamburg, Copenhagen and Malmö – such as theatre performances, music recitals, exhibitions and film events – but the pandemic cut off its endeavours in full stride. 
Culture, Saul argued, can help regions to attract the best global talent as well as tourists. 
With the Fehmarn Link expected to bring the three countries closer than ever before within a decade, Saul concludes the time is right to invest in culture. 
Tireless work on a meagre budget
Saul confessed he is often surprised to learn what meagre budgets culture initiatives work off, using budgets that are a twentieth of what one of his conferences costs. 
 "I really should ask [Move the North project initiator] Jana [Pulkrabek] to organise the next one," he quipped.
Pulkrabek has been busy since the lifting of restrictions, organising several music recitals on both sides of the Danish-German border and a two-week Scandinavian focus as part of the Hamburger Kultursommer that featured no less than 30 performances by 45 international artists.
Pulkrabek, who runs the Move the North platform together with her brother Petja, also performs herself, most recently alongside Vanessa Poole in John Foster's new play 'Hap' under the direction of Paul Glaser, the artistic director of The English Theatre of Hamburg.
The play, a HIT International production, was also performed at Malmö's Bastionen Theatre (including four sold out performances) and a run is expected in Copenhagen later this year.
New play about Brexit is perfect platform
Among her forthcoming projects as part of the HIT International season is 'Don't Mention the War', a new play by Ben Hamilton about Brexit, which is intended to be a cross-border, three country project.
"Art and culture thrive with movement and in interaction. Through encounters with other nations new impulses and trends can emerge. Especially in challenging times it is important to recognise and use the mediating function of culture to move Europe forward together," Pulkrabek told CPH POST.
"'Don't Mention the War' tackles the subject of Brexit from several angles. Consisting of three one-act plays, which will each have a different director, it is the perfect platform for a true Move the North project, as it will bring artistic voices from three (or even more) countries together to reflect on the subject."
Endorsed by former culture mayor too
Also present last night was Pia Allerslev, the former mayor for culture in Copenhagen.
"If you want people to discover the similarities between different cultures, countries, religions and mentalities, if you want people to reflect and react – use theatre, music and art," she told those gathered.
​"Move the North combines all these things and allows us to remember, and maybe even reinvent, the close bond between our three countries – and our region."
---
Best burger in Denmark unveiled
Copenhagen chain Gasoline Grill may have recently been named as the producer of the best burger in Europe, but it did not even make the shortlist for the best Danish one. That honour went to the restaurant chain Hungry Dane and its entry 'Burger 2021'. The perfect burger must be "sour, sweet, salty and bitter", explained Peter Kolos from Hungry Dane. The cheese on the burger is made up of cheddar, goat cheese and dry mozzarella, the bun is a brioche and the dressing is a combo of mayo, French mustard, smoked chipotle, Hungarian red peppers, jalapenos and Italian pecorino cheese. Meanwhile, Dandelion Burger was named the year's most innovative.
English-language content galore at this weekend's Kulturhavn Festival
One of the highlights of this year's Kulturhavn Festival will be 'The Hidden Harbour', an outdoor, immersive theatre journey around Sydhavn, which has been arranged by Assemble Theatre Collective. The project has taken inspiration from stories from past and present residents to produce a series of intimate, site-specific scenes set at unique waterside locations. Sounds exciting, but unfortunately it is already sold out. Nevertheless, tickets are still available for another Kulturhavn Festival highlight: six on-the-move performances of a variation of That Theatre Company's 'The Visit', a play that recounts how HC Andersen (Peter Holst-Beck) outstayed his welcome at the home of Charles Dickens (Ian Burns) in 1857. The action, featuring completely new material, begins by the Little Mermaid statue on August 27-29 at 12:00 and 16:00. But if you miss that, fear not, as That Theatre is performing another run of 'The Visit' this autumn, from October 29 to November 27.
Gallery reopening with VR technology showcase
After a long enforced closure due to corona, the Prince Gallery in central Copenhagen is reopening on September 4 from 14:00. Gallery owner Eric Prince will be premiering technology that is best experienced via a VR headset (Quest2). However, it will run on any device connected to your internet browser. More information is available at www.artxr.io.
Creators of sculpture speaking at Statens Museum for Kunst on Friday
Artists La Vaughn Belle and Jeannette Ehlers, the creators of the 'I Am Queen Mary' sculpture in Copenhagen – the first public monument of a black woman in the Danish capital – are this Friday speaking at Statens Museum for Kunst at the opening of 'After the Silence – Women of Art Speak Out', a new exhibition dedicated to powerful female artists, both present and past. It coincides with their launch of an international crowdfunding campaign on Indiegogo to raise funds to recast their statue in bronze and stone. A second sculpture is planned for the US Virgin Islands, which Denmark sold in 1917 after two centuries of running sugar and cotton-producing slave plantations on the islands.