News
Copenhagen ranked the best cycling city in the world
---
This article is more than 2 years old.
Despite rental affordability for tourists being two of the major considerations, the Danish capital had enough clout to see of Tallinn and Amsterdam in the Cycle Cities Report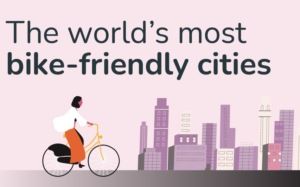 Copenhagen is the best city for cycling in the world, according to the Cycle Cities Report compiled by money.co.uk, which placed it ahead of Estonian capital Tallinn and Amsterdam.
The margin of victory was not huge, though, with the Danish capital scoring 216/280, just six and seven points ahead of its nearest rivals.
Affordability was a major factor, which hit relatively expensive Copenhagen fairly hard, but it benefited from having copious, mostly flat cycle lanes that the majority of cyclists use safely with a good knowledge of the rules.
Like the Olympic sailing!
The ranking was assessed according to nine parameters: the cost of hiring a normal bicycle; road accident numbers; number of bike paths/city population; elevation; pollution; average temperatures; cycling laws; number of repair shops/city population; and e-bike rental costs.
But rather like the Olympic sailing, not every score counted. A score of 40 was allocated for each parameter, and each city had its two worst scores discounted in its final total. 
Accordingly, therefore, no country was penalised for being particularly cold or hot, or hilly or polluted. 
One of the best for elevation
Bar the rental prices, Copenhagen ranked consistently highly throughout the categories, but only featured in the top three for elevation, for which it ranked joint first with The Hague (see below).
Among the other findings: Luxembourg City and Chiang Mai in Thailand have the most cycle repair shops/population; Helsinki was the least polluted; The Hague, Madison and Brisbane have the cheapest e-bike rental costs; and Singapore, Switzerland and Norway are the safest countries to cycle in. 
Zurich and Cluj-Napoca in Romania were also given a mention, as they offer free bike rentals to visitors.
Aussies beginning to dominate?
Perhaps surprisingly, but Australia had the most entries in the top ten with three. 
Completing the top ten were Helsinki, Tel Aviv, Oslo, Adelaide, Perth, Canberra and Valencia.
In total, 40 cities considered to be cycling-friendly were assessed.
The bottom ten (in ascending order) were Ljubljana, Barcelona, Madrid, Lisbon, Busa (Turkey), Cluj-Napoca, Haifa (Israel), Sydney, Izmir (Turkey) and Chiang Mai.