News
Danish News Round-Up: MP racially abused as he left Parliament following its reopening
---
This article is more than 2 years old.
Elsewhere, corona numbers and deer incidents on the roads are both increasing as the days get shorter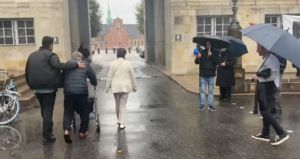 MP Sikandar Siddique, the leader of the Frie Grønne party, was subjected to racism as he left Parliament on the day of its reopening on Tuesday with his parents.
He shared a link of the abuse on his Facebook page.
Later he wrote: "Today, my old parents paid too high a price for me to be active in politics. I cannot bear at all that they should experience this. My family has long been worried about me, but I never tell them when I get overwhelmed because I try to shield them so they don't get nervous about me. But today I could not screen them."
Mother was shaking
Among the shouts Siddique and his parents were subjected to were "Pack your shit and go home", "Go with you and take your parents," and "You do not belong here."
Siddique revealed that his mother was "scared and shaking" and his 82-year-old father "extremely confused".
He concluded: "If these people think they can stop me, they are wrong. I will not stop my fight for a diverse Denmark. I need to say from the bottom of my heart that there must be no room for that kind of behavior in a modern democracy. We all MUST stand together against the racism that drives people to behave so horribly towards other people.
PM outraged
PM Mette Frederiksen is outraged that such abuse could take place in Denmark, and all places within Parliament itself, she wrote on Facebook.
"A racist attack on a family is an attack on all minorities. It does not belong in Denmark," she wrote. 
"And an attack on a democratically elected politician is an attack on democracy itself. It therefore does not belong in Denmark either."
Leader of party
Siddique was elected as a member of the Alternativet party at the 2019 General Election, but then left the party in 2020 to form Frie Grønne.
Other key members of Frie Grønne are MPs Uffe Elbæk and Susanne Zimmer, and Copenhagen councillor Niko Grünfeld.
---
Mink Commission is off and running
The Mink Commission has begun its investigation into the 2020 decision to kill all Danish mink. In total, 61 witnesses will take the stand in Frederiksberg Court, starting with three today. The last witness will be PM Mette Frederiksen on December 9. 
Is the corona infection rate rising again?
As the days get shorter and temperatures cooler, and the public spends more time indoors, corona infection numbers are edging up again. In the 24 hours up until yesterday afternoon, there were 573 cases and eight more admissions to hospital, taking the total number up to 95, of which 11 are in intensive care and seven on respirators. The last time there were more than 100 in hospital was September 17. The overall corona death toll is now 2,665.
Moderna won't be given to under-18s due to heart inflammation concerns
The Moderna vaccine will not be offered to under-18s due to concerns it increases the risk of heart inflammation – a possibility that has led to the authorities in Sweden and Norway taking similar action. Under-18s will only be offered the Pfizer vaccine.
Nurses stage strike in Jutland – again at staff shortages
Nurses at Sydvestjysk Sygehus staged a one-hour strike this morning – another protest aimed at staff shortages following similar action at the likes of Rigshospitalet. Nurses downed tools at wards in Esbjerg and Grindsted. In Esbjerg, the nurses were joined by port and scaffolding workers showing their solidarity.
Deer incidents on the rise as days get shorter
As the days get shorter, the number of incidents in which motorists hit deer is climbing, according to Dyrenes Beskyttelse. Since October 1, there has been a sharp increase, which is in line with expectations. In the final three months of 2020, the organisation received around 3,900 calls – a third of the annual total. 
Young people wary of ugly tone on social media
Over 60 percent of young people aged 16-25 will not air their opinion via social media due to the ugly tone, concludes an analysis carried out by Epinion for the Danish Youth Council. The results coincide with recent claims made by Facebook whistleblower Frances Haugen that the tech giant favors content guaranteed to trigger strong emotions. 
Antibiotic usage down: in general and due to fall in ailments during corona
The use of antibiotics has fallen by 22 percent since 2010, according to a report compiled by Statens Serum Institut and DTU. Consumption by animals has also fallen. Corona saw fewer ailments across the country, and consumption fell by 7 percent in 2020 compared to 2019.
Cheating schools and students
Aarhus Municipality has confirmed it is investigating allegations that one of its schools, Søndervangskolen, gave its students extra time to complete gymnasium entrance exams. An independent investigation will take place, and the minister for children and education, Pernille Rosenkrantz-Theil, has taken an interest. In related news, two sisters caught cheating in an exam have been handed suspended sentences by Holbæk Court. It is believed one took the other sister's place because she was better at English. 
Help for harassed local politicians
Last spring a DR survey revealed that 40 percent of local politicians have experienced harassment, and Slagelse Municipality is now leading the way with an initiative offering them help. Local politicians have the option of visiting a psychologist at the municipality's expense if they feel harassed or threatened. "It is important because several municipalities in the country experience that city roots are exposed to harassment, and there we must help the colleagues who are exposed to it," Slagelse Mayor John Dyrby Paulsen explained to DR.
Man charged with complicity in murder of Christianite over the summer
A 25-year-old man has been charged with complicity in the murder of a 22-year-old Christianite over the summer, who was shot dead in Pusher Street. Police are still looking for the shooter: a man described as being of average height, slender build and of African descent.
DFDS makes big purchase of electric trucks
Danish logistics company DFDS has purchased 100 Volvo electric trucks – the Swedish manufacturer's biggest ever deal for this kind of vehicle, reports Transportmagasinet. "We know how important electrification is in the journey to achieve our CO2 goals, and I hope we can inspire others when we move forward with this vital transition," noted Niklas Andersson, an executive at DFDS. The trucks can drive 300 km on a single charge.
Ferry lines fail with appeal against ECJ judgement
An appeal by Scandlines and Stena Lines against a 2018 judgement made by the European Court of Justice has been rejected by the same court. The ferry companies had questioned the funding given by the European Commission to help build the onshore facilities of the ongoing Fehmarn Link construction, claiming it distorted competition. Scandlines and Stena Lines have also appealed against the EU Commission's approval of state aid for the project. 
Fall in revenue hits Danish music industry
The Danish music industry experienced a 35 percent drop in revenue in 2020 from 9.5 to 6.2 billion kroner, according to a Rambøll report. Live music was hard hit by corona restrictions as revenue fell 52 percent, with ticket revenue falling from 2.3 billion to 858 million kroner.
Minister to fill in while colleague is on parental leave
Mattias Tesfaye, the integration and immigration minister, has added employment and gender equality to his portfolio to cover Peter Hummelgaard while he takes parental leave until December 10.
Supreme Court uphold life sentence for killer
The Supreme Court has upheld the life sentence handed out to a 27-year-old for murdering radio host Nedim Yasar, a former gang member, in the Copenhagen district of Nordvest in 2018. Alexander Findanis shot Yasar in the head and will serve a minimum of 15 years, it is believed.