News
Danish man charged with killing five people with a bow and arrow in Norway
---
This article is more than 2 years old.
The 37-year-old suspect, whose mother is Danish and father Norwegian, was a resident in Kongsberg, which is just southwest of Oslo. Updates are expected at a news conference at 10:00 on Thursday morning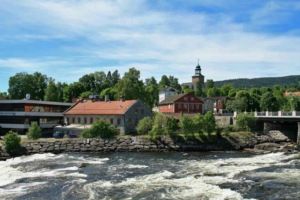 A 37-year-old Danish man has been arrested and charged in connection with the horrific attack in Kongsberg, just 60 km southwest of the capital Oslo, that left five people dead late yesterday afternoon.
It is believed the perpetrator, who has Danish citizenship but lives in Norway, carried out the attacks using a bow and arrow. Two more people were injured, including an off-duty police officer.
Police are confident the attacker acted below, but unsure whether to classify it as an act of terror.
"I understand that many people are afraid, but it's important to emphasise that the police are now in control," the country's outgoing PM Erna Solberg told media last night. 
Running for their lives
It is believed the attack started inside the Coop Extra supermarket in the west of Kongsberg. It went on for 34 minutes before the police intercepted the man at 18:47 CET.
"I saw people running for their lives. One of them was a woman holding a child by the hand," a witness told TV2 Norge, who sighted the bowman standing in a corner of the shop with arrows poking out of a quiver.
According to the Norwegian news agency NTB, the attacker had other weapons at his disposal.
Following his arrest, the suspect was taken to a police station in the town of Drammen, where his lawyer, Fredrik Neumann, has confirmed he was questioned for more than three hours last night.
A resident for several years
It is believed the suspect has a Danish mother and Norwegian father.
A local prosecutor, Ann Irén Svane Mathiassen, told TV2 Norge that the man has been a resident in Kongsberg for several years and was known to police. 
A crisis centre has been set up at one of the town's hotels.
The attack came on the final day of Solberg's government. A new centre-left coalition takes over today led by Jonas Gahr Store, who has condemned the "gruesome and brutal act".
Such bow and arrow attacks are rare, although one was depicted in the book and film 'We Need to Talk About Kevin'. 
More details are expected at a press conference at 10:00 this morning, which will be broadcast live on DR.