Sponsored content
Top three places where you can play physical poker in Copenhagen
---
This article is more than 2 years old.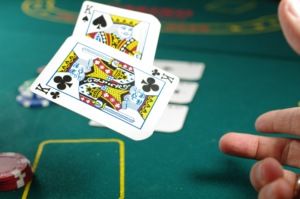 Many people go to Copenhagen every year to experience everything the bustling city has to offer. The town is a popular tourist attraction with many cosy places where you can get together for all sorts of activities. One such activity could be a game of poker.
With more and more people becoming interested in the tactical bluff game, whether it's Texas Hold'em or Omaha, taking your friends to the nearest casino to have a good evening in the Danish capital seems like a perfect choice.
There are not a lot of places where you have the opportunity to physically get the playing cards in your hands, but there are three places in Copenhagen and the surrounding area where you can go to the casino and challenge others in a face-to-face duel.
Casino Copenhagen
At Radisson Blu Scandinavia, you will find one of the capital's most luxurious poker rooms and the largest. Here you can buy a seat for many different poker tournaments, which are held weekly. You can also take part in the so-called Cash Games every day, which means that you exchange your money for chips and then get to feel like a proper 007 agent at the poker table.
It's a serious poker club where you can often run into professional players, so if your group has some people that are green, it's a good idea to familiarise yourself thoroughly with the game's many rules and expressions before you start your game here .
Casino Vesterport
A brand-new casino that has appeared in the Copenhagen cityscape is Casino Vesterport, which is located in Copenhagen V, not far from Rådhuspladsen. This is a place with you as a focus, so you should consider them being a stop on your night out. They have events such as Friday Bar, where you can get draft beer and drinks.
Where the previous casino was very competitive, here you play nothing but Ultimate Texas Hold'em, which is only against the dealer. This means that you should not come here if you want to challenge your friends to a game.
Casino Marienlyst
One hour from Rådhuspladsen, North Zealand's only casino, is located in a small holiday town. Here, you have the opportunity to combine a relaxing coastal holiday with an experience at the casino.
Tournaments are also held here, where you have the opportunity to climb up the rankings as Denmark's best player. The game of poker is a high priority here, and if you are keen to let your stay in Copenhagen be all about poker, it's definitely worth considering taking the trip up north one of the days.
Texas Hold'em is the most popular
Common for all the casinos is that they all play Texas Hold'em. It is the most popular poker game, which is why you may need to practice before heading out to various tournaments. However, if you do not have the opportunity to go to one of the above casinos, you can take advantage of all the casinos online.
At an online casino, there are just as good opportunities to learn Texas Hold'em with real dealers and get the feel of being at a physical casino. Casinos like Casumo are great alternatives when you need to get to know the classic card game better. Here, you can also find other popular games that you know from the physical casinos, which adds even more to the authentic experience.
18+ | Play responsibly | StopPlay: 70 22 28 25 | ROFUS: www.rofus.nu