News
International Round-Up: Denmark issues joint declaration on Israeli Settlements
---
This article is more than 2 years old.
Meanwhile, fuel company Dan-Bunkering is in the docks for shipping diesel to the Syrian regime, and a Danish warship is heading to the Gulf of Guinea to police pirate-infested waters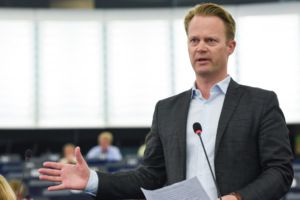 The Danish Foreign Ministry, along with that of 11 other European states and the United Kingdom, has issued a joint declaration denouncing Israel's plans to construct 3000 settlement units in the occupied West Bank.
The statement, representing the governments of Denmark, Belgium, Finland, France, Germany, Ireland, Italy, the Netherlands, Norway, Poland, Spain and Sweden, reads: "We strongly oppose Israel's policy of settlement expansion across the Occupied Palestinian Territories, which violates international law and undermines efforts for the two-state solution."
Following US lead
The joint declaration came one day after a US rebuke of the construction plans.
"We strongly oppose the expansion of settlements, which is completely inconsistent with efforts to lower tensions and to ensure calm, and it damages the prospects for a two-state solution," State Department spokesman Ned Price said.
Under Donald Trump, the United States encouraged Israel's activity on occupied Palestinian land, with then secretary of state, Mike Pompeo, even touring a settlement.
Around 475,000 Israeli Jews currently live in settlements in the occupied West Bank, which are considered illegal under international law.
---
Turkey moves to deport Denmark's and nine other countries' ambassadors
Turkish President Recep Tayiip Erdogan has instigated the deportation of ten  ambassadors, including Denmark's, following their joint call for the release of Turkish activist Osman Kavala. Along with Denmark, Norway, Sweden, Finland, Germany, France, the Netherlands, the United States, Canada and New Zealand have signed the statement criticising delays to the trial of Kavala, who was jailed four years ago for his alleged role in anti-governmental protests in Gezi Park in Istanbul in 2013. Though Erdogan requested that the ten diplomats be denoted personae non gratae, the Danish foreign minister, Jeppe Kofod, stated that the ministry had not yet received an official request to that effect.
New links brought to light in Danish dividend tax scandal
The recently released Pandora Papers reveal that three Americans – Jerome Lhote, Matthew Stein and Luke McGee, who face up to 12 years in prison for defrauding the Danish Treasury of 1.1 billion in dividend tax refunds – had previously collaborated with British businessman Sanjay Shah. Shah is the main suspect in a separate case in which 12.7 billion kroner in dividend tax refunds was stolen from the Danish Treasury between 2012 and 2015. In 2012, Lhote and Stein ran Argre Management, a company owned by businessman Alan Quasha. McGee, who also worked for Quasha, later became their business partner. The three collaborated briefly with Shah before going solo in acquiring the German institution North Channel Bank and Choice Bank in Belize, where the money was subsequently sent. Quasha, who was instrumental in bailing out Choice Bank in 2018, and who is responsible for connecting the four men, denies knowing of or benefitting from either dividend scandal.
Foreign minister meets African counterparts in Rwanda
The Danish foreign minister, Jeppe Kofod, attended the EU-African Union (AU) Foreign Ministers' Meeting in Kigali, Rwanda at the end of October, where climate change and the green transition were top of the agenda ahead of COP26. Migration, digitisation and COVID-19 recovery were also discussed, and Kofod has planned follow-up bilateral talks with the foreign ministers of South Africa, Kenya and Rwanda.
Virgin Island travel board seeks to entice Danish visitors
The US Virgin Islands' commissioner of tourism, Joseph Boschulte, has visited Copenhagen to meet a range of Danish stakeholders as part of the department's strategic goal to strengthen ties with the Scandinavian country. The USVI team met with tour operators, members of the media, and other key partners in Copenhagen ahead of The White House's lifting of COVID-19 travel restrictions for fully vaccinated European and other international visitors starting November 8. Cruise holidays to the Virgin Islands are popular with Danish travellers.
Danish company in court for selling fuel to Syrian regime
The Danish fuel suppliers Dan-Bunkering and Bunker Holding are accused of supplying 172,000 tonnes of diesel to the Syrian regime with a value of 648 million kroner, the Bagmandspoliti claims. The fuel was shipped by Russian tankers from Turkey, Greece and Cyprus to buyers in the port city of Banias, Syria. Keld Rosenbæk Demant, the head of the companies in question, insists he was not involved in the trades. The verdict of a series of court hearings is expected in mid-December.
Danish warship sent to police the Gulf of Guinea
On Sunday the warship Esbern Snare set sail towards the Gulf of Guinea to enhance shipping security in the pirate-infested area for approximately six months. The navy assets include a helicopter, special operations forces, and a contingent of military police. The Gulf of Guinea is one of the riskiest areas for civilian shipping – a problem for Denmark, which is the world's fifth-largest shipping nation. Up to 40 Danish ships sail in the gulf every day.
Stations planned for future metro between Copenhagen and Malmö
A planned driverless Øresund metro between Malmö and Copenhagen will likely jumpstart more metro development in Malmö. Two stations will be installed in Västra Mamnen and one near Malmö C – though precise locations are still unconfirmed. Extensions to Värnhem or Södervärn are also on the table, according to a new report by the City of Malmö. A future metro journey to Sweden will take 20 minutes, and the line will connect with the existing Copenhagen Metro in northeastern Amager.