News
Danish Defence to sell ageing fighter jets in anticipation of new fleet arriving
---
This article is more than 2 years old.
F-16s have ten years on the clock and could command a price of 100 million kroner each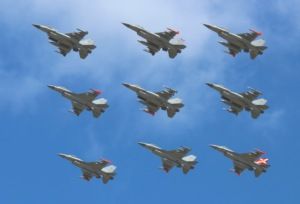 Danish Defence is making plans to sell 24 of its 43 F-16 fighter jets before 2025 in anticipation of receiving its full contingent of F-35s.
For the last four months, Danish personnel have been testing four of the new planes in Arizona, and all 27 should be based on Danish soil by 2027.
The F-16s have another ten years on the clock, and it is believed they are worth 100 million kroner each. All revenue from the sales will be reinvested in the defence budget.
One potential buyer …
Turkey has emerged as a potential buyer, although that would have various complications.
The country was ousted by the US from the F-35 distribution program following statements by President Erdogan that he wanted to develop a military collaboration with Russia.
The buyer of the F-16s must be approved by Parliament, after which Ministry of Justice will issue an export licence. And then the deal will need to be legally validated by the US, where the supplier Lockheed Martin is based.
Old guard still in action
Denmark's F-16s are currently on their final deployment.
Since September, they have been based at the Šiauliai airbase in Lithuania, where they will continue to operate for another two months monitoring activity in the Baltic States.
The mission has so far resulted in the interception of 18 military aircraft attempting to penetrate the airspace borders of NATO member states.