News
Poster boy! So that's why so many end up in the canal!
---
This article is more than 2 years old.
'Amager Ripper' filmed tearing down up to 100 placards on Wednesday night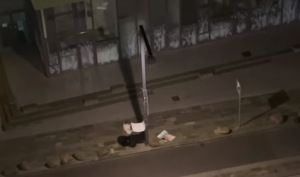 Ever noticed how some streets are chockablock with election posters, and others are bare.
Peer closer and tiny plastic blinders are visible on pylons and fences.
Explore the area and you'll often find the remnants of a poster or two: in the bushes, or the harbour as the new favoured perching spot for a wading bird.
Vandalism in Amager East
Well, a Copenhagen Post reader might have solved the riddle of why so many posters are ripped down.
Or at least, why so many were destroyed on a stretch of road in Amager East on Wednesday night.
He caught the whole episode on camera! (see video below).
Must hate democracy!
"Just captured this rampage of election poster-destroying last night in Amager, the reader told CPH POST.
"This man must really hate democracy."
To be fair, though, the vandal and an accomplice who joins him later, are quite impartial as they don't appear to discriminate between the parties.