News
War on corona: fightback begins with increased vaccination capacity and suspension of healthcare guarantee
---
This article is more than 2 years old.
A call for arms for retired and student personnel really is reminiscent of an army on its last legs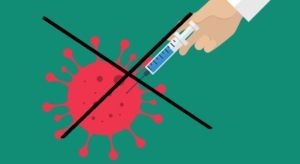 It's a hive of activity out there, with seemingly the whole country battling to ensure we don't have to follow the likes of the Netherlands and Austria into a pre-Christmas lockdown.
It is "full turbo" with efforts to give the nation a third vaccination jab, according to the battle cry from newly-elected Capital Region head Lars Gaardhøj.
This means more centres and more personnel, as the authorities want qualified healthcare workers to come out of retirement and help with the push, along with students. 
It really does sound like the end of a war.
Increased vaccination capacity
"We are currently experiencing an increasing contagion in society and increased pressure on our hospitals, so we are going full turbo with the vaccinations," explained Gaardhøj.
"It's no secret that we are under pressure regarding our staff, so if there are health professionals who have retired, students or other health professionals who have the opportunity to lend an extra hand with vaccinating, then it will be a great help."
The Capital Region has raised its vaccination limit and will have the capability to jab 100,000 a week from December 1 onwards, while the nationwide capacity will be 300,000. 
Plans are also afoot to extend the opening hours of the vaccination centres: later in the evenings and on Sundays. 
While appointments are necessary via vacciner.dk to have a third jab, no appointment is necessary if you are unvaccinated.
It is believed that 170,000 people are eligible for a third jab in the Capital Region – out of a total of 578,000 nationwide. Eligibility is obtained once six months have passed since your second jab.
All in the numbers
Already, 598,231 people in Denmark have received their third jab, so 10.2 percent of the population. Included are a fair proportion of those who received the Johnson & Johnson, as they only needed to wait three months.
Last week, 123,517 people were revaccinated, and 450,000 were invited to have their third jab, but some have been left waiting.
In total, 95.8 percent of nursing home residents have been revaccinated, 83.4 percent of those with chronic illnesses, and 79.9 percent of the over-85s.
Meanwhile, handing out first jabs is still a huge priority, and it is in urban areas where efforts are chiefly failing. In the North and Central Jutland Regions, 90 percent of all over-12s are now vaccinated.
Sickness, stress, shortages and strikes
Hospital admissions are increasing – up to 414 as of yesterday, of which 51 are in intensive care – building pressure on personnel.
So it is welcome news that a parliamentary majority back plans to suspend the guarantee given to all people in Denmark that they can be treated or examined within 30 days.
"Our healthcare system is under extreme pressure. Therefore we must do what we can to lend a helping hand," Enhedlisten health spokesperson Peder Hvelplund told DR.
His SF counterpart Kirsten Normann agrees, calling the proposal "a good idea".
The healthcare sector is not only struggling with the demands of corona, but also with staff sickness, stress, shortages and strikes. 
Waiting 24 hours for a test
Meanwhile, the demand for PCR testing is skyrocketing to the extent that many are having to wait 24 hours for a timeslot to have one.
Only in North and Central Jutland are the public able to find a timeslot on the same day that they decide they want to get tested.
The government has a goal that 80 percent of all people who want a test should be able to get one that day.
Finally, in other corona news, the US authorities have advised their citizens against travelling to Denmark due to the escalating corona cases. Yesterday's figure was 3,711.
Specifically the CDC authority, which is responsible for disease control and prevention in the USA, has decided to move Denmark up to level four – the same as Germany.