News
I think they're turning Japanese! Copenhagen among top sushi-crazed cities in the world
---
This article is more than 1 year old.
According to respected magazine, the capital ranked sixth overall while Denmark ranked even higher as a country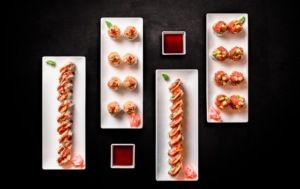 Nordic cuisine has soared to the top of many global gastronomic rankings in recent years, thanks to the likes of Noma and Geranium.
However, another food revolution has gripped Denmark over the past decade or so – and it isn't Nordic at all.
Third behind Japan and Ukraine
According to international food magazine Chef's Pencil, Denmark and its capital are among the world's most sushi-crazed places.
Using search-related data from Google Trends, Chef's Pencil ranked Denmark (popularity score of 79 out of 100) third overall behind Japan (100) and Ukraine (87).
According to the report, the popularity of sushi in Denmark peaked in 2020 before take a slight dip last year (see image below).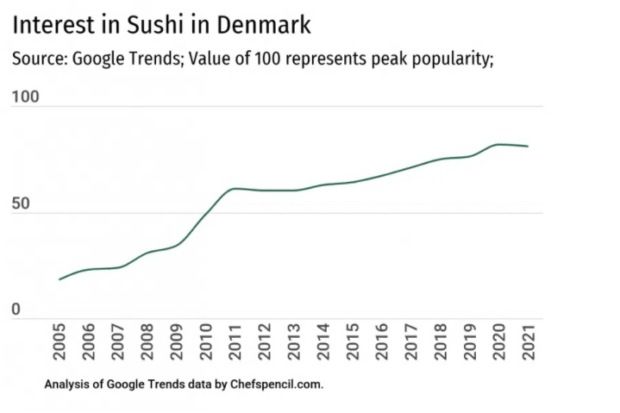 READ ALSO: Michelin stars out tonight: Noma finally reaches the gastro zenith
Arigatōgozaimasu Japan!
For cities outside of Japan, Copenhagen also scored high, coming in sixth behind leaders Vancouver, Novosibirsk and a hat-trick of Ukrainian cities Odessa, Kharkiv and Kiev. 
"Copenhagen has gained a fantastic reputation for its food culture and worldwide cuisine, hosting the best-rated restaurant in the world (Noma), and a myriad of other fantastic restaurants. The only complaint: it's very expensive," wrote Chef's Pencil.
"The first sushi place in Copenhagen opened in the late 1980s; almost 30 years later, it is home to over 100 sushi joints. While sushi is not new to either Denmark or its capital city, its popularity continues to grow, and it reached an all-time high in 2021."
They do love a bit of fish in the Nordics and eastern Europe, which was reflected in the top 10, which was completed by Minsk, Gothenburg, Stockholm and Oslo. 
Check out the entire report here