News
Third time lucky for Roskilde Festival #50 as festivals start planning in earnest
---
This article is more than 1 year old.
Hopefully the 2022 edition will be all the sweeter given that fans have been waiting three whole years for it to take part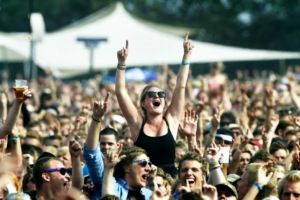 It's a bit like Helsinki and the Olympics. 
It all started in 1938 when Japan declared it was unable to host the 1940 games (nothing suspicious about its withdrawal …). Helsinki gamely stepped in, only to stand down once World War II started.
The Finnish capital patiently waited, seeing off the Soviets (with a few territorial losses) before switching sides to the Allies with impeccable timing. Everything looked good for the next Olympics, but then in stepped London to host the austerity games in 1948.
Theoretically the next Olympics should not have taken place in Europe, but poor old Finland … which finally got to host 12 years after the games should have been held.
Tapping our thumbs with Thom and Tyler
The 50th anniversary of the Roskilde Festival won't end up waiting as long as the Finns, but three years have been an awfully long time for music fans anticipating the highlight of their calendar.
The 2020 festival promised performers such as Taylor Swift, Deftones and Thom Yorke, while 2021 recruited the likes of Kendrick Lamar, The Strokes, Tyler The Creator, Faith No More, HAIM, TLC and Thom Yorke (again). Both were cancelled.
But with corona dissipating, optimism is sky-high the festival will open its famous gates on June 25 and that the Orange Stage will again welcome music acts such as Dua Lipa, Haim and Tyler The Creator (again) to its hallowed ground.
The PM is obviously a fan
Many revellers have been holding onto their tickets since 2019!
And on Wednesday, PM Mette Frederiksen gave them the news they have all been waiting for.
"Spring is on the way, the days are getting longer. Ahead of us awaits a summer with the hugs back: togetherness, concerts and festivals again. All that many of us have missed," she said.
The likes of Tinderbox and NorthSide have already confirmed they expect to host their festivals without restrictions.
Big festivals mostly sold out
But it's bad news for those without tickets, as Roskilde is already sold out, although special provisions were made to ensure the under-20s got extra tickets at the end of last year. Smukfest is also sold out.
"For the festivals where the tickets have been sold in advance, it is unfortunately the case that there is no room for more," Dansk Live spokesperson Esben Marcher told DR.
"But there are lots of smaller festivals that are not sold out yet."
Thy Festival, for example, still has 3,000 tickets available.