Things to do
February Events: Heigh ho! It's off to the Snow White panto we go!
---
This article is more than 1 year old.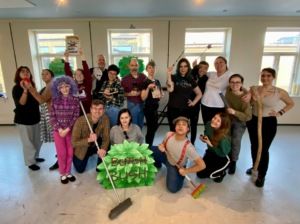 Snow White & the Seven Dwarfs
Feb 8-13, Tue-Fri 19:00, Sat 13:00 and 19:00, Sun 13:00; Biblioteket, Rentemestervej 76, Cph NV; 100-180kr; ctcircle.dk
The Copenhagen Theatre Circle's annual British panto is 'Snow White & the Seven Dwarfs'. Expect audience participation, the normal array of craziness and cross-dressing, and music and comedy suitable for the whole family.
CPH Light Festival
Feb 4-27; throughout Cph; copenhagenlightfestival.org
Light up the night this February with a celebration of light art and illuminating experiences. The festival will transform Copenhagen with works contributed by Danish and international artists. Download the interactive app to locate all the attractions.
Winter Jazz
Feb 3-27; nationwide; jazz.dk/en
Vinterjazz celebrates unique venues and stages throughout Denmark, whilst being a platform for expression.
STEM Career Virtual Fair
Feb 24, 13:00-16:00; online; free adm
Recent and soon-to-be graduates have the chance to connect with organisations orientated around the EU and ask specific questions. Don't miss this perfect opportunity to network online and take the next step in your career.
Dinner Days
Feb 11-20; restaurants all over DK; 225kr for 3 dishes; dinnerdays.dk
Not to be confused with Copenhagen Dining Week, although the concept is identical, Dinner Days has been packing them in since 2015. Organised by DinnerBooking, it will return in Week 42.
Globe Quiz
Feb 10 & 24, 19:15; Globe Irish Pub, Nørregade 43-45, Cph K; 50kr; the-globe.dk
Gather a team and head to The Globe for quiz night! Some 50kr to enter per player, the winners earns 1,200kr, second place 600kr, and third place a case of beer.
Architecture Walks
ongoing, ends Mar 26, 13:30-15:30; Bryghuspladsen 10, Cph K; 150kr, free for under-18s; dac.dk
Join the Danish Architecture Center for a walking tour overlooking Ørestad. Explore unique features of contemporary design and how sustainability plays a role within the reconstruction of the city centre.
Astronomy on Tap
Feb 5, 19:00-20:00; Huset, Rådhusstræde 16, Cph K; free adm
Experts Sophie Schrøde and Dr Alejandro Vigna-Gomez, will introduce you to new astronomical concepts, followed by a quiz with a chance to win free drinks!
Architecture Fun Run
Feb 18, 18:30-21:00; Bryghuspladsen 10, Cph K; 95-195kr; dac.dk
Race against your friends under the lights. You can run or walk the 7.5km route that takes you past some of the best light fixtures of the Copenhagen Light Festival. Warm bowls of soup and music for all participants!
Viking Museum free tours
ongoing, ends April 30, 13:00-13:45; Viking Ship Museum, Vindeboder 12, Roskilde; vikingeskibsmuseet.dk
Gather your family and head to Roskilde for a free tour in English of the Viking Ship Museum. Marvel at the recreated ships and Viking Age artefacts before you.
Dans2Go
Feb 12-13 and 18-20, 20:00-22:00; Gamle Scene, Kongens Nytorv 9, Cph K; 159kr; kglteater.dk
Dans2Go features four ballet performances: Sebastian Kloborg's new work 'Already night', Peter Martin's 'Zakouski', John Neumeier's 'Persistent Persuasion' and Hofesh Shechter's 'Uprising'. It's a perfect night for ballet beginners.
Kennedy's Quiz
Feb 7, 19:30; Kennedy's Irish Bar,Gammel Kongevej 23, Cph V
Quiz night at Kennedy's Irish Bar includes raffles, cash prizes, and drinks rounds.
Fix Your Fashion
Mon-Thu & Sat-Sun; various locations; repaircafedanmark.dk
Do you have worn out clothing that needs fixing? Studenterhuset has several repair cafes throughout the city where its lovely staff will be happy to help you give your wardrobe a second life. Check their website for event locations and times!
Copenhagen Dining Week
Feb 11-20; various CPH restaurants; 225kr for 3 dishes, 525kr for 10; diningweek.dk
Since 2011, CPH Dining Week has made it possible to visit fancy restaurants to eat a menu at a fixed price. Dubbed the Nordic region's largest restaurant festival, the menus are exclusively made for the week to ensure guests have a unique dining experience at a great price.
Open Days with CBS
Feb 23-24, 11:00-16:30; online; opendays.cbs.dk
Ever thought about going back to school, or are you a university student with a passion for business? If so, don't miss the Open Days at CBS!
Masego
Feb 16, 20:00; Vega, Enghavevej 40, Cph V; 300kr
Jamaican-American musician Masego is appearing at Vega! Primarily an R&B/Soul singer, Masego is loved by teens and adults alike. Book tickets before they sell out!
Feel the Room
Feb 14-20, 11:00-17:30; Copenhagen Contemporary, Refshalevej 173A, Cph K; copenhagencontemporary.org
Meet musician Lars Greve at the CC Studio. He's an expert on sound – he could even help you build your own instrument from recycled materials. This is an audio experience like no other.
Quality Cattle
Feb 26,18:00 & 20:00, Feb 27, 14:00 & 16:00; Demokrati Garage, Rentemestervej 57, Cph NV; 100kr
Challenge your perception of reality by immersing yourself in a theatre production by the Assemble Theatre Collective. 'Quality Cattle' is inspired by Agustina Bazterrica's dystopian novel 'Tender is the Flesh' in which a virus threatens to wipe out mankind. Sound familiar? The opening night is 'pay what you decide'.
Gravens Rand Quiz
Feb 15 & March 1, 19:00; Søndre Fasanvej 24, Frederiksberg; entry 30kr
Maximum of four per team, it's 1,000 kroner for the winners and a crate of beer for second. Two beer rounds, and shots for last place!
Asian Film Festival
Feb 9-14, 16:00-22:00, Feb 15-16, 12:00-22:00; various cinemas; caff.dk/festival
Don't miss Scandinavia's only Asian Film Festival! Expect a diverse variety of films celebrating the vast continent's cultural heritage.