News
Nye Borgerlige and Liberal Alliance speak up for nuclear power in Denmark
---
This article is more than 1 year old.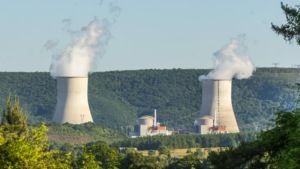 On Tuesday, all the parties' leaders were invited by TV2 to talk about the future of the EU and NATO, and Denmark's use of Russian gas became a major talking point.
The ongoing war has shown how much Europe is dependent on gas coming from Russia. This is why leaders Pernille Vermund (Nye Borgerlige) and Alex Vanopslagh (Liberal Alliance) think we should build nuclear plants in Denmark.
"Across Europe the stance on nuclear power has been leaning to closing the power plants. Now we are considering whether to keep them open. But this means that we have got ourselves into a situation where we have become increasingly dependent on the Russians," said Vermund.
In need of other solutions
Germany became more dependent on Russia when it closed three of its last surviving nuclear power plants last year. This decision was spurred by the Fukushima accident in 2011.
No-one in the debate wants Denmark to be dependent on Putin's energy anymore.
"We should do everything we can," said Venstre leader Jakob Ellemann-Jensen. "Whether we need to put extra pipes in the North Sea, or turn up the biogas – we must do everything we can do to alleviate this."
His Radikale counterpart Sofie Carsten Nielsen concurs, but not by building new power plants: "I kind of agree with Pernille Vermund that it was probably not the best idea for Germany to close the power plants. But it is not a solution to build them in Denmark.
A country free of Russian gas
On Tuesday, the European Commission presented a plan to reduce demand for Russian gas by 80 percent within a year.
EU Commission President Ursula von der Leyen said that this will be achieved in three different ways.
The first is to find other suppliers such as the US, Qatar, or Australia. The second is to increase green energy. This would require massive investment in renewable sources such as solar, wind, and hydrogen. And finally, it would require more efficient use of energy.
As PM Mette Frederiksen said on Sunday, the government wants to go further. Denmark must become completely free of Russian gas. Do to so, it will – among other things – investigate whether it is possible to increase the extraction of gas in the Tyra field, which is Denmark's largest natural gas field in the North Sea.