Things to do
Performance Review: Vivienne victorious! Her Valentine is one for the ages
---
This article is more than 1 year old.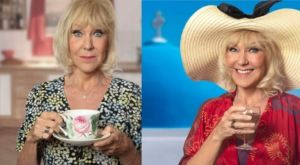 Vivienne McKee is many things. Icon, actor, comedian, businesswoman, not least, she is an inspiration to countless expats in the way she moved to Denmark 50 years ago and took the country by storm, winning over the hearts of hundreds of thousands of Danes with her annual Christmas show.
But at Teatret ved Sorte Hest on Saturday at the premiere of her new one-woman play, Vivienne McKee could not be seen.
On stage, instead, was Mrs Bradshaw, a 42-year-old mother of two – a housewife, it transpired, who prefers to be known by her maiden name: Shirley Valentine.
Completely absorbed in the role
Vivienne was so absorbed in the role, it was hard to see the familiar star of stage and screen shining through. Only when she smiled at the thought of more wine, perhaps.
And while this was true from the onset, it became more acute as the play progressed.
In fact, by the time the second act began, when Vivienne re-emerged after just a minute offstage, she was even more unrecognisable: like she had the appearance of somebody who you'd met before, but months or even years ago, and your brain needed to readjust to their appearance.
Was this achieved with a quick makeup touch-up, or a trick with the lighting – who knows?! But McKee genuinely resembled somebody who had experienced a transformative fortnight and grown as an individual. She was blossoming before our very eyes.
This was also noticeable in her body language: from the 'battered housewife struggling with shopping' haggardness of the opening scenes to the 'Capri starlet who's just got off her Vespa' posture of the final act, it's quite the metamorphosis.
Cast-iron connection with audience
At the heart of this performance was the way she connected with the audience.
Vivienne imbued Shirley with such poignancy and personality, it was impossible to resist and extremely touching.
Sure, her likeability was guaranteed the moment she entered. At a premiere filled with friends, family and admirers, the only thing missing was Wet, Wet, Wet and their hackneyed mush.
But Shirley's story would have softened the heart of Reinhard Heydrich. And the huge laughs, detonated with such peerless timing, could be heard on the other side of Frederiksberg.
This was feel-good perfection: a huge mood-lifter for everyone who saw it.
Crazy fun with anarchic accents
Accents play a large role in the monologue, with Vivienne required to reel off up to a dozen different, mostly British brogues.
The first, the Liverpudlian spoken by Valentine, was initially rendered with exaggerated intonation (those familiar with the original might hear echoes of Pauline Collins) – an emphasis on the comic elements of Scouse we all so admire and like to occasionally mimic. But Vivienne was wise to let that go before it started to grate.
However, that didn't stop Vivienne gleefully mining her other vernaculars in Crazy Christmas tradition, with an emphasis on the crazy. Her impression of a Greek man was otherworldly, it has to be said.
Overall, though, it was probably with the variety of her other Liverpudlian accents that she really shone, underlining what a tour-de-force of a performance this truly was.
Herculean endeavour worthy of Greece's finest
Honestly, why is this role not referred to as the 'Hamlet for actresses'? Around 90 minutes long, Vivienne has an extraordinary number of lines to remember, and only once did she appear to come unstuck (in the third act when her friend returns), even though the scene ended with the punchline equivalent of The Guns of the Navarone.
It has to be said, in case you were wondering, that Willy Russell's original manuscript has not dated in any way.
In her program notes, director Helen Tennison contends that Shirley's story, post-Covid, is more relevant than ever. After all, she's a character who doesn't want to waste her life when there's a whole world waiting to be explored. After our lockdown woes and restricted travel, what story could resonate more?
But before you make like Shirley and head off to Greece, why not take a trip to Teatret ved Sorte Hest to see one of the funniest, most charming and touching plays you'll ever likely to encounter in these parts.
For nearly two hours you'll be in the safe hands of a master of comic timing and storytelling: a Valentine for the ages.