News
Danish icon listed among world's best sandwiches
---
This article is more than 1 year old.
CNN has ranked the open-faced 'smørrebrød' classic among its top 23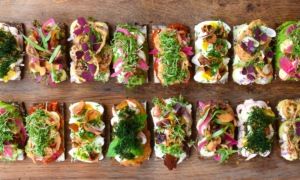 Newcomers to Denmark will probably quickly pick up that the Danes have quite the penchant for rye bread.
And seemingly with licence to pile just about anything on it. 
From liver pâté, shrimp and smoked mackerel to pickled herring, potato and eggs … anything goes.
Perhaps that versatility is what makes the open-face 'smørrebrød' sandwiches in Denmark so popular, according to CNN, which has ranked the Danish culinary icon among the top 23 sandwiches in the world.
"Beloved all over Scandinavia but particularly iconic for being one of Denmark's national dishes, this open-faced sandwich translates to 'buttered bread' – but smørrebrød is so much more," wrote CNN.
"With rye bread as the typical base, toppings include scores (perhaps hundreds) of combinations that range from curried or pickled herring and tiny pink shrimp to sliced boiled eggs and rare roast beef atop a layer of butter. In true Scandi style, smørrebrød goes big on aesthetics too – the sandwiches are as pretty to look at as they are delicious to eat."
READ ALSO: Køkken Confidential: A guide to Danish cuisine
And there's more good news for sandwich-lovers in Denmark.
Another one to make the list is the shawarma, which is Middle Eastern by heritage, but quite at home in Denmark as well, thanks to the big Turkish community.